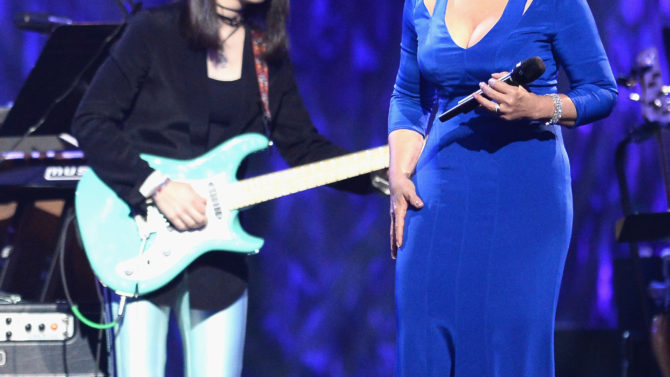 Fue una noche mágica bajo las estrellas en el Hollywood Bowl de Los Angeles para el concierto de Gloria Estefan el viernes 25 de julio.
La reina del pop, viéndose elegante en un vestido rojo y otro negro, deleitó a su público con nuevas versiones de sus éxitos como "Con Los Años Que Me Quedan" y "Mi Tierra" pero también interpretó temas de su más reciente album, "The Standards," un homenaje a los grandes compositores.
Entre las canciones estuvieron "Sonríe," una version en español e italiano del tema clásico de Charlie Chaplin, 'Smile;" "They Can't Take That Away From Me" de George e Ira Gershwin; "Eu Sei Que Vou Te Amar" de Antonio Carlos Jobim;  y también "I've Grown Accustomed to His Face," de Alan Jay Lerner, la cual se la dedicó a Emilio Estefan, con quien lleva 36 años de casada.
Emilio, quien el 23 de julio reunió a todos los latinos en Hollywood (varios invitados especiales como Will Smith) para el lanzamiento de su ron Botran Rum (ver fotos aquí), subió al escenario y compartió un momento especial con su esposa.
Difícil de creerlo, pero Gloria nunca se había presentado aquí, y sin duda fue un sueño realizado para ella, o como ella dice, estaba en su "bucket list."
Entre canciones, Gloria nos hizo reír con su sentido del humor pícaro. Pero la más grande sorpresa de todas fue que Emily, la hija de 19 años de Gloria y Emilio de que actualmente estudia en Berklee College of Music en Boston, ¡hizo su debut como cantante en el escenario junto a su madre!
Emily cantó el tema clásico "Where The Boys Are" de Connie Francis.
Lo cierto es que Gloria no fue la única que se emocionó. Ella mismo ha bromeado en varias ocasiones que su hija es "la más talentosa de todos nosotros."
Emily se parece mucho a su madre — las dos tienen el mismo tono de voz — pero al mismo tiempo tiene su propia identidad como artista, con un sabor de 'soul.'
De momento Emily tiene un EP a la venta llamado "The Rosewood Project" con su amiga Natalia De La Guardia, y está terminando su primer álbum, que por lo que escuchamos será todo un éxito.
Después del concierto anoche, Emily nos contó que está fascinada con su programa en Berklee.
Y qué mejor manera de cerrar con broche de oro una noche tan especial que con "Conga," la canción que hace casi 30 años cambió el panorama de la música pop en Estados Unidos para siempre, abriendo puertas para futuros artistas latinos como Ricky Martin, Shakira, Pitbull, y Jennifer Lopez, entre tantos.
¡Gracias por los recuerdos!