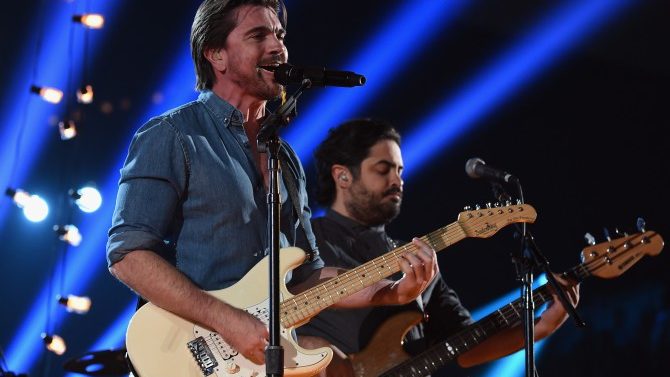 The 57th Annual Grammy Awards took place on Sunday, February 8th where the best and most elite singers, composers and producers in the music industry gathered to celebrate another great year in music.
As the ceremony kicked off musicians took the stage to sing their award winning hits and within those top performers was Latin American superstar Juanes, who made history performing his new song "Juntos (Together)" from the motion picture "McFarland."
Introduced by Golden Globe winner Gina Rodriguez from "Jane The Virgin," whose theme song is also sung by Juanes, the Colombian musician was the first artist in ten years to perform an original Spanish-language song at the Grammy ceremony. The first time to have this happen was in 2005 when Marc Anthony and Jennifer Lopez interpreted "Escapémonos."
"When people of various backgrounds work together so much more can be accomplished," said Rodriguez upon introducing the artist and making a note of how important this moment and the song was.
Juanes, already a Latin-American sensation not only brought the Latin flavor to the award ceremony but was a hit onstage and made Latinos all over the world proud with his subtle yet jam-packed performance.
"Juntos (Together)" is about a new opportunity, about the chance to work together and achieve so much more.
"I am always dreaming of the opportunity to open new doors," the singer stated in an interview with Music Times. And that is what he has done tonight.
While this was not his first time to take the spotlight at the Grammys, he made his debut back in 2013 singing a Spanish/English rendition of Elton John's "Your Song", having the opportunity to sing among the music industry's top and best is something that will always be remembered.
Despite not taking home the Grammy for Best Latin Pop Album let it be noted that he is already a two-time award winner and 20-time Latin Grammy winner. Juanes is making a huge impact in the United States and is quickly becoming a house-hold name that soon everyone will come to know and love.
Watch his complete performance below: