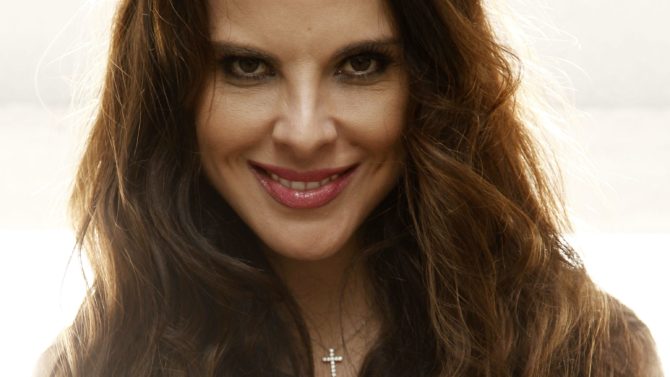 Kate del Castillo was already a well-known actress when she accepted the role of Teresa Mendoza on Telemundo's La Reina del Sur, but it helped catapult the Mexican-born star into a name recognized all over the world. The Spanish-language series was a ratings juggernaut for the network and it helped spawn translated versions in multiple other countries including Serbia, Hungary, Slovenia, Croatia, Romania, and Cyprus. This summer, it served as inspiration for the USA Network's English version Queen of the South starring Alice Braga in the role of Mendoza.
Variety Latino spoke to del Castillo at an event launching her own brand of tequila Honor Tequila this week about whether or not she had watched the show since it premiered.
"I watched the first episode and I think it's an amazing production," del Castillo told Variety Latino. "The only thing I didn't like is that she's doing coke all the time, which was not [part] of the real character based on the book or the series that I did. She's a victim the whole time although, she curses all the time, she sleeps with married men, she traffics drugs and she gets drunk. Even with all those flaws, the people love her. I think with that detail about the coke I felt like, 'that's not the Teresa that I love…that I created.' I treated her with so much respect and love that for me it's hard to see that."
Even knowing that detail about the new Teresa, del Castillo admits she'd be open to guest star on the series should the right role come along. After Rafael Amaya, who played El Guero on del Castillo's La Reina, brought his character Aurelio Casillas to USA's Queen in the series finale, you never know what new showrunner Natalie Chaidez has up her sleeve for season two.
"I would have so much fun, of course," she said excitedly at the prospect of returning to that world. When we suggested it would be interesting to see her maybe play the role of a rival drug boss, del Castillo agreed that it would be such a treat for fans of the series to see that happen.
With roles under her belt on Jenji Kohan's Weeds, NBC's Grimm, and even on The CW's Jane the Virgin, del Castillo is just really enjoying being a working actress in Hollywood and considers herself extremely lucky to be able to work in both the English and Spanish language markets.
"I really love doing those guest starring roles," she said. "You learn so much and you get to work with such amazing people. I get to mix things up and do something different. Jane the Virgin is such a beautiful comedy but I still get to be a bitch. [laughs] I love it! I love being bitchy. I love those characters."