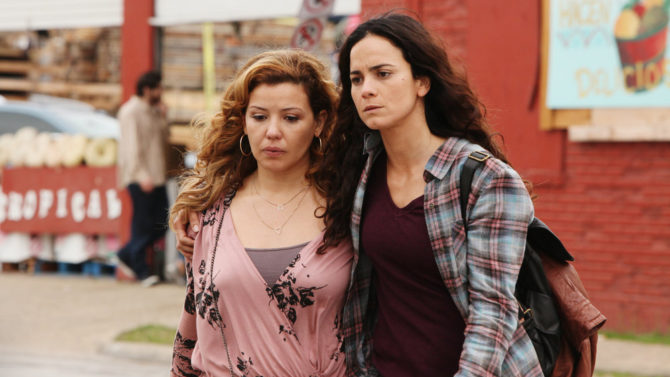 You can't really say "things are heating up" on the next episode of USA's Queen of the South because it's basically been on fire the entire season. Teresa (Alica Braga) got her hands back on the book that her dead boyfriend El Guero (Jon-Michael Ecker) told her could help save her life. She and her friend Brenda (Justina Machado) are desperately trying to trade it for money so they can get the heck out of dodge.
The funny thing is, the duo has no idea what the information contained in the book even means! They desperately try to decipher its contents, but will they be able to do so in time? So many questions, so little time.
In this exclusive clip of episode 111 entitled, 'Punto Sin Retorno' (Point of No Return), you can eavesdrop on Teresa and Brenda's conversation. Here's the official description of the episode from the network:
Camila's (Verónica Falcón) operation goes underground when James (Peter Gadiot) finally sets out to kill "The Birdman" (Brent Smiga) in a strategic move to align with the Jimenez Cartel. Fed up, Brenda finds herself caught in the crossfire of an escalating drug cartel war. Meanwhile, Epifanio (Joaquim de Almeida) struggles to keep his campaign moving while dodging public rumors of his link to the drug trade violence.
Tune into an all new episode of Queen of the South on Thursday, September 1 at 10/9 Central only on USA Network.