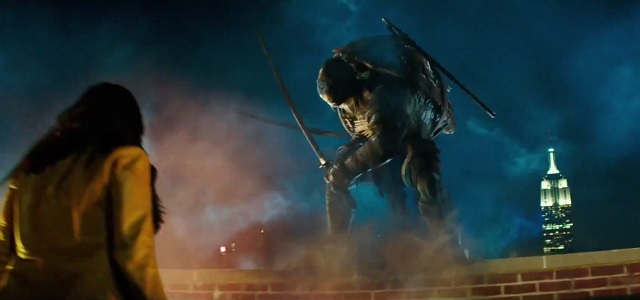 Es un misterio.
Es decir, la nueva película de Jonathan Liebesman, "Teenage Mutanta Ninja Turtles," sigue siendo un misterio.
El estudio de Paramount compartió el nuevo tráiler de la película el jueves pero desafortunadamente el video de un minuto y 30 segundos no nos dio el vistazo que esperábamos.
Lo que sí sabemos es que la guapísima Megan Fox interpreta la reportera April O'Neil y las tortugas son masivas con cuerpos que resemblan el físico de Rambo.
Lo más decepcionante del tráiler fue que no enseñaron el personaje de Splinter.
Las imagines del tráiler están llenas de explosiones, combate y tonos oscuros, algo que no nos sorprende ya que Michael Bay produjo la película. Pero tal vez fue un resultado de su colaboración con Liebesman, quien dirigió "Battle Los Angeles" y "Wrath of the Titans,"películas conocidas por su gran acción.
Andrew Nemec, el guionista de la película, dijo que el tema central en "Ninja Turtles" es la importancia de la familia.
"La historia siempre termina siendo una historia de hermanos. Eso realmente fue el punto principal para nosotros," le dijo Nemec a Comingsoon. "Nos aseguramos que ese elemento siempre fuera un componente central de la película."
El elenco incluye a Fox, William Fichtner, Will Arnett y Whoopi Goldberg. La película sale el 8 de agosto.
¿Qué les parece el nuevo tráiler de "Teenage Mutant Ninja Turtles"?