La ciudad de Los Angeles se contagió de la frescura y juventud de Young Hollywood.
Este domingo se llevaron a cabo los "Young Hollywood Awards" que celebra el talento joven en el mundo del entretenimiento.
Conducido por Kelly Osbourne, la ceremonia arrancó a lo grande entregándole el primer premio a Ansel Elgort como "Fan Favorite Male Actor" por su participación en la película "The Fault in Our Stars".
Después subió al escenario Danielle Brooks de "Orange Is the New Black" para recibir su premio como "Breakthrough Actress" y aprovechó para alentar a la juventud diciendo "Siempre sigue tus sueños, se hacen realidad. Yo estoy viviendo el mio".
Y cuando hablamos de jóvenes es imposible no hablar sobre las redes sociales. Uno de los premios fue "Social Media Superstar" y lo recibió la popular Ashley Tisdale ya que cuenta con más de 12 millones de seguidores en Twitter. ¡El premio lo tiene bien merecido!
La ex compañera de Tisdale en "High School Musical", Vanessa Hudgens, fue reconocida por su incomparable estilo y por ser súper chic con el premio "Trendsetter Award". En su agradecimiento no sólo agradeció a sus fashion idols, entre ellas Bianca Jagger, Kate Moss, y Naomi Campbell, sino también le dijo a todas las mujeres: "Dejen salir a esa diosa que tienen por dentro".
Nuestra Rising Star of the Year (Estrella Emergente del Año) Gina Rodriguez, de la nueva serie en The CW, "Jane The Virgin," fue la encargada en presentar al cantante Trey Songz pero también aprovechó para agradecer a Variety Latino por su reconocimiento.
VER TAMBIÉN: Gina Rodriguez será premiada en los Young Hollywood Awards
Luego Trey hizo bailar a todos con su más reciente sencillo "Na na".
La actriz de "If I Stay" Chloe Grace Moretz subió para recibir su premio como "Fan Favorite Female Actor" donde dijo que sus fans lo eran todo para ella.
"Quiero agradecer a todos mis fans, son increíbles, sin ustedes no estaría aquí".
Despues celebró con sus amigas Vanessa Hudgens y Nikki Reed.
Parte del elenco de "Orange Is the New Black" subió al escenario para recibir su premio "Bingeworthy TV Show" ya que tenemos que reconocer que si ves un episodio de la serie en Netflix, la adicción comienza y terminas viendo toda la temporada.
Nos encontramos a Dascha Polanco y Danielle Brooks de OITNB backstage y aprovechamos para tomarnos una selfie con las muchachas más hot de la televisión.
El bailarín de "Dancing With the Stars" Derek Hough dejó a todos con la boca abierta tras presentar su coreografía, a nosotros nos encantó
Pero los gritos invadieron el teatro cuando Cody Simpson subió al escenario para entregarle el premio a su gran amigo Justin Bieber de "Champ of Charity". Pero el Biebs no dejó que el fuese el que brillara al escenario, la estrella fu su acompañante que subió con él al escenario, Grace Kesablak, una niña que sufre de cáncer y es parte de la fundación "Make A Wish".
VER TAMBIÉN: Justin Bieber dio el mejor momento en los Young Hollywood Awards 2014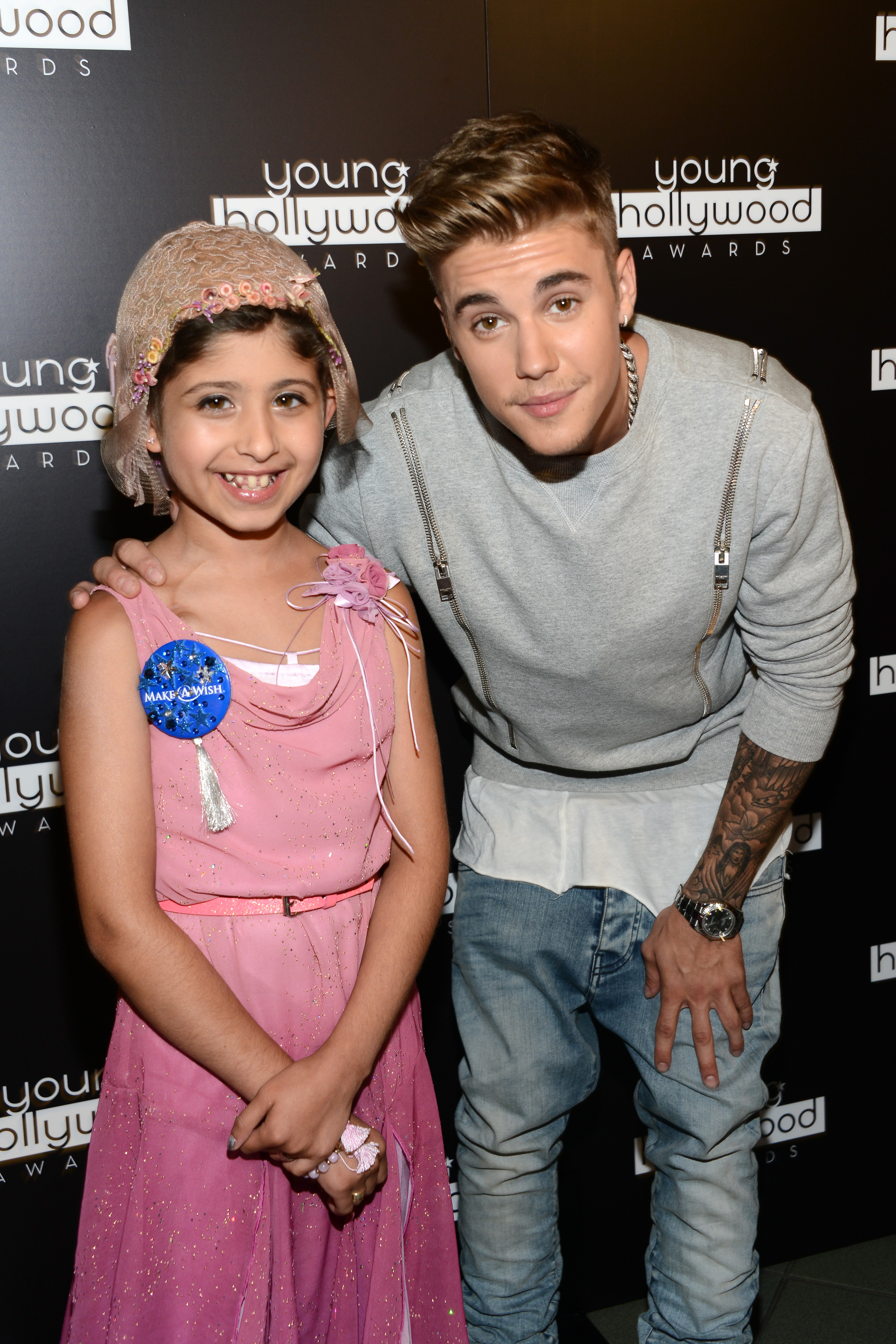 El toque romántico lo puso Colbie Caillat con su sencillo inspirador "Try".
Para presentar el premio a la mejor película subió el elenco de "OITNB", premio que obviamente se lo llevó la peli más vista por los jóvenes "The Fault In Our Stars".
¡Y así concluyó el evento más cool de este verano!
No te lo pierdas el lunes 28 de julio por The CW a las 8 / 7 c.
Aquí la lista de todos los ganadores:
FAN FAVORITE MALE ACTOR
GANADOR: Ansel Elgort
· Adam Driver
· Andrew Garfield
· Liam Hemsworth
· Jonah Hill
· Josh Hutcherson
· Theo James
· Michael B. Jordan
· Taylor Lautner
· Aaron Paul
· Andy Samberg
· Channing Tatum
BREAKTHROUGH ACTRESS:
GANADORA: Danielle Brooks
· Elle Fanning
· Dakota Johnson
· Nicola Peltz
· Margot Robbie
#SOCIALMEDIASUPERSTAR:
GANADORA: Ashley Tisdale
· Ariana Grande
· Austin Mahone
· R5
· Chrissy Teigen
· Bella Thorne
TRENDSETTER AWARD: Vanessa Hudgens
VARIETY LATINO "RISING STAR OF THE YEAR ": Gina Rodriguez
YOU'RE SO FANCY
GANADORA: Bella Thorne
· Cara Delevingne
· Kendall Jenner
· Rita Ora
· Emmy Rossum
· Kiernan Shipka
FAN FAVORITE FEMALE ACTOR:
GANADORA: Chloe Grace Moretz
· Emilia Clarke
· Kaley Cuoco
· Zooey Deschanel
· Nina Dobrev
· Jennifer Lawrence
· Emma Roberts
· Emmy Rossum
· Taylor Schilling
· Emma Stone
·Allison Williams
· Shailene Woodley
REALITY ROYALTY:
GANADOR: The Bachelor and The Bachelorette
· America's Next Top Model
· The Real Housewives
· So You Think You Can Dance
· The Voice
VIRAL SUPERSTAR:
GANADORA: Jenna Marbles
· Christina Grimmie
· Ryan Higs
· Bethany Mota
· Tyler Oakley
BINGEWORTHY TV SHOW:
GANADOR: Orange Is The New Black
· Awkward
· Game of Thrones
· Pretty Little Liars
· Teen Wolf
· The Walking Dead
SONG OF THE SUMMER:
GANADORA: "Fancy" Iggy Azalea ft. Charlie XCX
· "Problem" Ariana Grande ft. Iggy Azalea
· "Really Don't Care" Demi Lovato ft. Cher Lloyd
· "Rude" MAGIC!
· "Stay With Me" Sam Smith
· "Wiggle" Jason Derulo ft. Snoop Dogg
BREAKOUT MUSIC ARTIST:
GANADOR: Sam Smith
· Iggy Azalea
· Ariana Grande
· Demi Lovato
· One Direction
· Ed Sheeran
THE BEST THREESOME:
GANADORES: The Vampire Diaries (Nina Dobrev, Ian Somerhalder, Paul Wesley)
· The Hunger Games (Jennifer Lawrence, Liam Hemsworth, Josh Hutcherson)
· Neighbors (Zac Efron, Dave Franco, Christopher Mintz-Plasse)
· That Awkward Moment (Zac Efron, Miles Teller, Michael B. Jordan)
· Workaholics (Adam DeVine, Anders Holm, Blake Anderson)
SUPER SUPERHERO:
GANADOR: Kellan Lutz (The Legend of Hercules)
· Stephen Amell (Arrow)
· Chris Evans (Captain America: The Winter Soldier)
· Andrew Garfield (The Amazing Spider-Man 2)
· Nicholas Hoult (X-Men: Days of Future Past)
· Chris Pratt (Guardians of the Galaxy)
BREAKTHROUGH ACTOR:
GANADOR: Dylan O'Brien
· Sam Claflin
· Ansel Elgort
· Miles Teller
· Nat Wolff
CHAMP OF CHARITY AWARD: Justin Bieber
HOTTEST BODY OF WORK: 
GANADOR: Derek Hough
· Kellan Lutz
· James Maslow
· Chrissy Teigen
· Kate Upton
WE LOVE TO HATE YOU:
GANADOR: Pablo Schreiber (Orange Is the New Black)
· Dane DeHaan (The Amazing Spider-Man 2)
· Jack Gleeson (Games of Thrones)
· Sam Riley (Maleficent)
· Zombies (The Walking Dead)
FAVORITE FLICK: 
GANADORA: The Fault in Our Stars
· 22 Jump Street
· Divergent
· The Hunger Games
· Maleficent
· X-Men: Days of Future Past