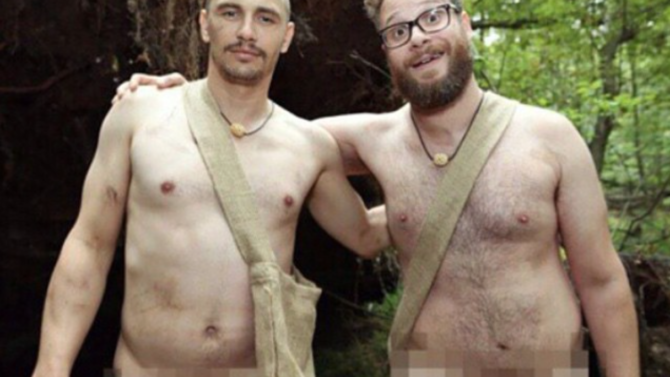 Los nunca aburridos y siempre controversiales, Seth Rogen y James Franco embarcan en una nueva aventura que lleva de título "Naked And Afraid".
Rogen y Franco compartieron fotos en sus redes sociales donde están … desnudos y asustados!
¿¡Qué se traerán entre manos estos dos?! Aunque no sabemos exactamente de qué se trata esta aventura o si será que aparecen en el programa "Naked And Afraid" del Discovery Channel, estas fotos nos han dejado muy intrigados…
Cabe mencionar que en el programa suelen ser un hombre y una mujer quienes se van a la selva, desnudos, por 21 días para ver si pueden sobrevivir. Ni los actores ni Discovery han confirmado que vayan a aparecer en un episodio.
Lo cierto es que próximamente los veremos en la pantalla grande en la película "The Interview" donde se encargarán de asesinar al líder de Corea del Norte Kim Jung-un, producción que no tiene muy contento al gobierno de ese país.
De hecho, Corea del Norte declaró que "The Interview", la cual estrena este 25 de diciembre, es un "acto de guerra".
No cabe duda que estos dos son adictos a la adrenalina y al peligro.