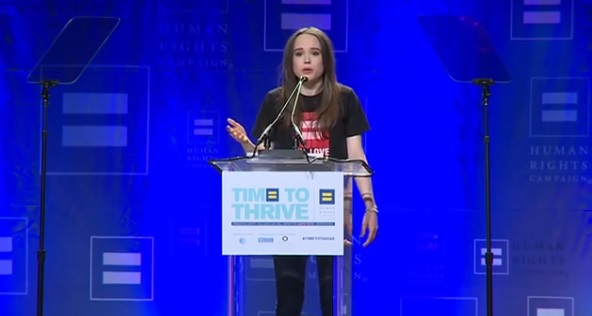 En un discurso durante la  conferencia de Time to Thrive el viernes, la actriz Ellen Page hizo pública su homosexualidad. "Estoy aquí hoy porque soy gay," le dijo Page a una audiencia de jóvenes de la comunidad LGBT en el Hotel y Casino Bally de Las Vegas.
La estrella de 26 años de edad, aparecerá en la próxima película "X-Men: Days of Future Past" de Bryan Singer.
"Estoy cansada de esconderme y estoy cansada de mentir por omisión," dijo Page. "He sufrido durante años porque tenía miedo de estar fuera. Mi espíritu sufrió, mi salud mental sufrió y mis relaciones sufrieron. Y estoy aquí hoy, con todos ustedes, en el otro lado de todo ese dolor. "
El patrocinador de la conferencia, Human Rights Campaign, twitteó "Felicidades @EllenPage por tomar los pasos necesarios para vivir abiertamente y salir como lesbiana."
Page también le dijo a la audiencia que sentía una obligación personal y una responsabilidad social para ser honesta. "Tal vez yo pueda ayudar a otros a tener un tiempo más fácil. Estoy cansada de la clandestinidad," dijo Page.