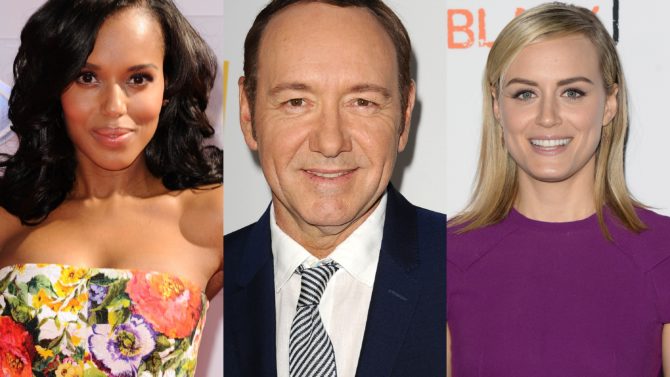 Ya se vienen los Emmy Awards y nosotros estamos ¡muy emocionados!
La noche del lunes podremos ver todo el glamour de esta ceremonia que premia lo mejor de la televisión americana.
Y para calentar motores queremos saber tu opinión sobre quiénes podrían ser los ganadores en las categorías más peleadas.
VER TAMBIÉN: 15 curiosidades que no sabías de los Emmys (GIFS)
Sin duda una de las categorías más reñidas es la de Mejor Actor de Drama. El año pasado, para sorpresa de muchos, ganó Jeff Daniels por "The Newsroom" y no Kevin Spacey, como muchos creían (y querían). Este año es muy particular pues compite el reciente ganador del Oscar Matthew McConaughey junto con Woody Harrelson, ambos por "True Detective," y aunque no lo creas Jon Hamm nunca ha ganado por su papel de Don Draper en "Mad Men." ¡Qué injusticia!
https://38.media.tumblr.com/8198950304c6b15ce15268660355eb3e/tumblr_mpyotc14fd1qiyhd9o2_250.gif
https://38.media.tumblr.com/6d950f18b4983ed8b7292d7e165d1e51/tumblr_n7vhazVb9V1riabgvo1_250.gif
En la categoría Mejor Actriz en Drama, también hay grandes talentos en competencia. Por una parte Claire Danes ha ganado los últimos dos años por "Homeland". Una sorpresa puede dar Lizzy Caplan quien está nominada por primera vez por su rol en "Masters of Sex", en tanto que Kerry Washington de "Scandal" podría hacer historia, ya que si gana sería la primera mujer afroamericana en ganar esta categoría. Un honor bien merecido, sin duda.
https://31.media.tumblr.com/tumblr_mawkdcGf571rsrc7no1_250.gif
https://33.media.tumblr.com/tumblr_mawkdcGf571rsrc7no2_250.gif
En Mejor Actor de Comedia el galardón lo ganó Jim Parsons el año pasado, quien ha ganado 3 veces este premio por "Big Bang Theory" y este año puede ganar doblemente pues también está nominado a Mejor Actor de Reparto por la mini serie de HBO "The Normal Heart".
https://38.media.tumblr.com/de8da4bcc57729fe90372bd1bd4a3247/tumblr_n79e98Ie9g1slp090o1_500.gif
Y en Mejor Actriz de Comedia, podría dar una gran sorpresa Taylor Schilling, quien está nominada por primera vez con "Orange Is the New Black". El año pasado ganó Julia Louis-Dreyfus, quien ya había recibido el mismo premio en 2012 por su rol en "Veep". Esta actriz además ganó también en 2006 por "The New Adventures of Old Christine" y en 1994 por "Seinfeld" pero en la categoría de actriz secundaria. ¿Se llevará una vez más el premio?
https://38.media.tumblr.com/0fea81168336954413010db4bc545647/tumblr_mtmuoerkgx1rstnf0o4_250.gif
https://31.media.tumblr.com/30359ddd19592e6253ebeaec7d52632c/tumblr_n9zsia3Yju1sbxqyqo1_250.gif
¡Vota por tus favoritos!