En una forma única y perfecta, Ian McKellen ayudó a traer a dos enamorados juntos.
El cineasta sudafricano Brett Lotriet Best hizo un video creativo para pedirle matrimonio a su novio, Khalid Shawwa.
Shawwa es gran fan de "Star Trek" y especialmente de Patrick Stewart y su personaje, el capitán Jean-Luc Picarden. Desafortunadamente el actor no estaba disponible para ayudar al director entonces le pidió ayuda a su mejor amigo, McKellen.
¡El resultado es increíble!
VER TAMBIÉN: Primer vistazo 'The Hobbit: The Battle of the Five Armies' (VIDEO) 
En el video vemos a Best, con un mensaje que lee, "Te quiero preguntar algo, pero tenía que estar seguro…"
"Todos sabemos cómo te sientes sobre el capitán Picard de 'Star Trek,' entonces recorrí la galaxia en búsqueda de Patrick Stewart y finalmente le pedí ayuda a su mejor amigo," continuó el video.
Aquí es cuando apareció el actor de "X-Men: Days of Future Past" con una claqueta con el mensaje, "Mookie, ¿te quieres casar conmigo?"
VER TAMBIÉN: Premiere de 'X-Men: Days of Future Past' (FOTOS)
"Khalid, te tengo malas noticias, bueno, también son buenas," dijo McKellen. "La mala noticia es que Patrick Stewart está casado. Yo lo casé. Bueno, no, yo fui el ministro en la ceremonia. Yo lo casé. Él no está disponible, pero la buena noticia es que Brett sí está disponible. Así que piénsalo, haz lo correcto."
Al final vemos a Best con otro mensaje, "¿Te casas conmigo? Me gustaría explorar el universo contigo."
¡Awww!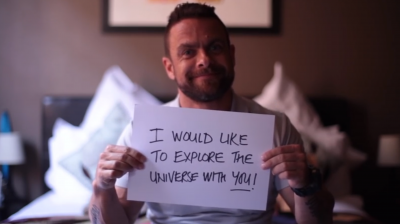 Según el Twitter del director, la respuesta fue, "Sí."
Ve el video aquí: