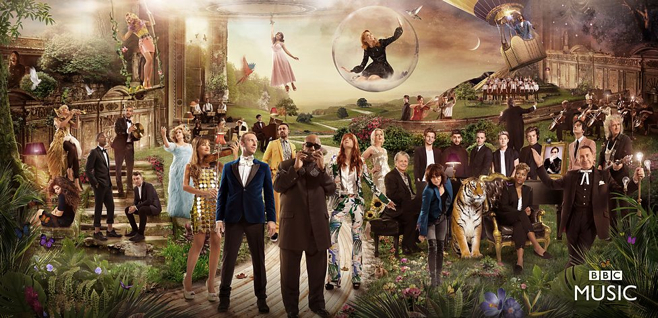 "Para el amor de la música."
Los artistas más grandes del mundo de la música se unieron para crear magia.
Es algo increíble ver a tantos músicos juntos unirse para cantar el tema "God Only Knows" de los Beach Boys para celebrar el lanzamiento de BBC Music.
El tema de la banda de los '60 incluye una larga lista de músicos, entre los famosos vemos a Pharrell Williams, Lorde, Chris Martin de Coldplay, Elton John y muchos más.
Brian Wilson, miembro original de The Beach Boys también aparece en el video musical lo cual expresó su emoción por ser parte de esta gran celebración de la música.
"Todos los artistas hicieron una trabajo maravilloso, no les puedo agradecer lo suficiente," comentó Wilson en un comunicado en The Guardian. "Me siento tan honrado de que 'God Only Knows' fue elegida. 'God Only Knows' es una canción muy especial, es un tema muy espiritual y uno de los mejores que he escrito."
Es hermoso ver a todo este talento juntos en este video, aquí les tenemos la lista completa de músicos:
Brian Wilson de The Beach Boys, Stevie Wonder, Pharrell, Lorde, Chris Martin de Coldplay, Sam Smith, Elton John, One Direction, Dave Grohl, Kylie Minogue, Florence Welch, Brian May de Queen, Chrissie Hynde, Jake Bugg, Emeli Sandé, Paloma Faith, Alison Balsom, Martin James Bartlett, Danielle de Niese, Nicola Benedetti, Eliza Carthy, Baaba Maal, Jamie Cullum, and Jaz Dhami. BBC personalities Zane Lowe, Lauren Laverne, Katie Derham, Gareth Malone y Jools Holland. También vemos la participación del coro Tees Valley Youth Choir y BBC Concert Orchestra.
http://ichef.bbci.co.uk/images/ic/976xn/p0287bd0.jpg
1. Dave Grohl / 2. Alison Balsom / 3. Lorde / 4. Pharrell Williams / 5. Zane Lowe / 6. Sam Smith / 7. Paloma Faith / 8. Eliza Carthy / 9. Nicola Benedetti / 10. Chris Martin / 11. Jaz Dhami / 12. Martin James Bartlett / 13. Danielle de Niese / 14. Stevie Wonder / 15. Florence Welch / 16. Lauren Laverne / 17. Brian Wilson / 18. Jake Bugg / 19. Katie Derham / 20. Gareth Malone / 21. Kylie Minogue / 22. Chrissie Hynde / 23. One Direction / 24. Emeli Sandé / 25. Elton John / 26. Baaba Maal / 27. Ethan Johns / 28. Jools Holland / 29. Jamie Cullum / 30. Brian May / 31. Tees Valley Youth Choir / 32. BBC Concert Orchestra
¡Wow!
"God Only Knows" será disponible para descargar y las ganancias recaudadas ayudaran el programa de BBC Children in Need.
Esta no es la primera vez que BBC ha unido a músicos, en 1997 lanzaron el tema "Perfect Day" de Lou Reed con David Bowie, Bono, Elton John y muchos más.
Aquí les damos el video musical de "God Only Knows."
¿Qué les parece esta gran colaboración?