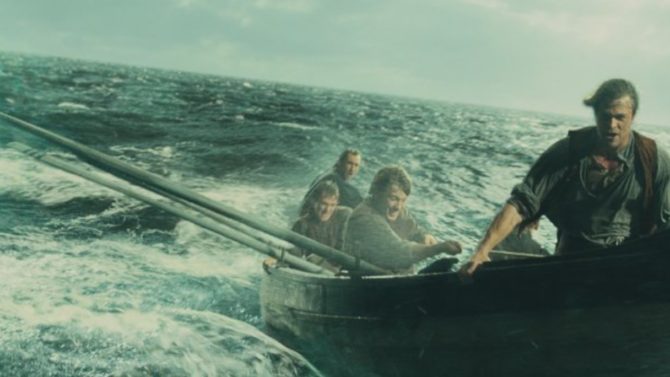 Durante su fin de semana de estreno, In the Heart of the Sea no logró superar la fuerza de The Hunger Games: Mockingjay – Part 2. La más reciente cinta de Chris Hemsworth recaudó solo 11 millones de dólares quedando en la segunda posición de la taquilla norteamericana. Por otro lado, el filme protagonizado por Jennifer Lawrence sigue siendo la más popular entre el público después de varias semanas de exhibición. Recaudó $11.3 millones.
In the Heart of the Sea, dirigida por Ron Howard, cuenta la historia de una embarcación ballenera que es súbitamente embestida por un gran cachalote, incidente que deja a Owen Chase (Hemsworth), y a los demás tripulantes de este barco, a la deriva por 90 días.
El actor australiano nos contó los sacrificios que tuvo que hacer para poder interpretar a este personaje el cual fue un reto físico para el intérprete, quien se tuvo que someter a una estricta dieta para parecer todo un naúfrago.
En la tercera posición de la boletería estadounidense está The Good Dinosaur ($10.5 millones), en cuarta Creed ($10.1 millones) y en la quinto lugar se encuentra la película de terror Krampus ($8 millones).