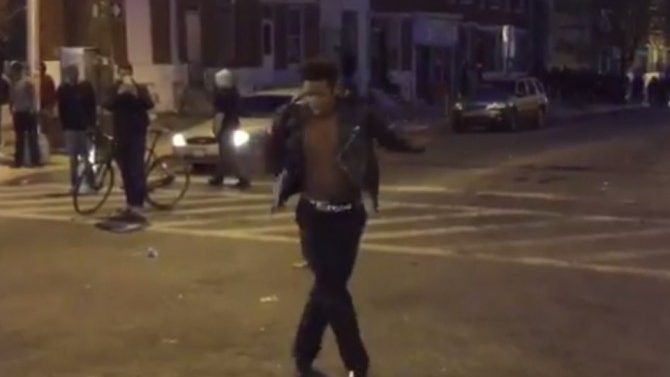 Cada uno protesta como él o ella quiera y este hombre, quien fue visto en las calles de Baltimore después de las protestas en Baltimore, Maryland, ¡quiso bailar!
Los problemas empezaron el lunes 27 de abril, tras la muerte del joven Freddie Gray quien falleció después de que fue herido de bala en la espalda cuando estaba en custodia policial. Luego de este suceso, el gobernador del estado, Larry Hogan, declaró un estado de emergencia ya que las protestas han salido de control.
Desde que empezaron las protestas, al menos de 20 oficiales han resultado heridos y más de 200 personas han sido arrestadas pero un solo hombre quiso que su voz se escuchará alrededor del mundo.
Sputnik News captó el video del joven que hoy impactó las redes sociales.
También lo vimos hacer el famoso moonwalk del Rey del Pop y la gente lo miraba con alegría y hasta unos también empezaron a bailar.
El desconocido continuó su rutina hasta la noche y la gente siguió subiendo videos de su presentación.
Notemos la similares del tema que se estrenó en 1983 y la situación en Baltimore.
En las letras de la canción escuchamos a MJ decir que, "Tienes que mostrarles que no tienes miedo, estás jugando con tu vida".
"You have to show them that you're really not scared, You're playin' with your life, this ain't no truth or dare. They'll kick you, then they beat you, then they'll tell you it's fair, So beat it, but you wanna be bad."
El video también nos muestra dos grupos de hombres que están a punto de pelearse, no sabemos cuál es el malo y cuál es el bueno, pero llega Jackson para separarlos y al final los vemos todos trabajando juntos.
¿Será que este joven está intentando de hacer lo mismo, qué opinan?