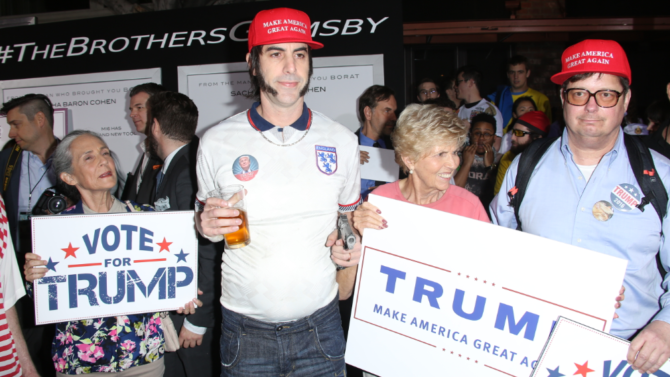 Los famosos no dejan de atacar a Donald Trump. Primero fueron George Clooney y Miley Cyrus, ahora se trata de Sacha Baron Cohen.
Durante la premier de The Brothers Grimsby, Baron Cohen actuó como si estuviera apoyando la candidatura del candidato republicano, para luego decir que si Trump ganaba las elecciones escogería a Bill Cosby como vicepresidente. El actor hizo estas declaraciones mientras usaba una gorra con el famoso lema del ahora político que dice: "Make America Great Again", lo que en español se traduce a "Hagamos a América genial de nuevo".
Esta no es la primera vez que Baron Cohen, de 44 años, deja claro que no es fanático del magnate, quien continúa liderando muchas de las encuestas.
Durante una entrevista en Jimmy Kimmel Live!, Baron Cohen encarnó nuevamente a su famoso personaje Borat para dejar claro que la propuesta de Trump de "prohibirle" la entrada al país a los musulmanes era algo que solo se le ocurriría a una persona con "cerebro de gallina".
El nuevo filme del británico, The Brothers Grimsby, ya se estrenó en Estados Unidos y cuenta la historia de un espía cuyo hermano es un vago futbolista. El filme cuenta con la participación de Penélope Cruz, Mark Strong, Rebel Wilson, y Annabelle Wallis, entre otros.