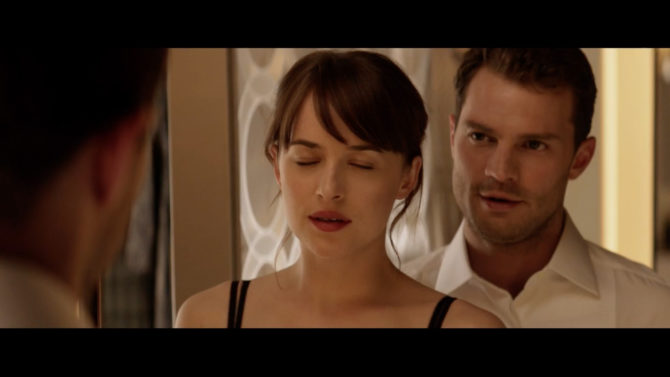 Este 13 de septiembre se estrenará el primer tráiler oficial de la esperada película Fifty Shades Darker y como un abrebocas, Universal Pictures lanzó un teaser tráiler anunciando las buenas nuevas, así como el primer póster de la cinta.
VER TAMBIÉN ¿Le teme Hollywood al fracaso y prefiere jugar seguro con secuelas y remakes?
En el adelanto dado a conocer este 12 de septiembre, vemos al enigmático Christian Grey (Jamie Dornan), poniéndole un antifaz a Anastasia Steele (Dakota Johnson), la inocente estudiante de literatura con la que inicia un peligroso romance. "¿Estás lista?", le pregunta el guapo millonario a la chica mientras ella se mira en el espejo.
Una imagen similar es la que se aprecia en el primer poster de la cinta, basada en la exitosa trilogía de libros Fifty Shades of Grey. En el afiche se ve a Johnson mirando fijamente, mientras Dornan le ajusta un elaborado antifaz de encaje gris.
"Sumérgete en algo más oscuro", se lee al final afiche promocional.
VER TAMBIÉN Las secuelas más esperadas de Hollywood [VIDEO]
Dirigido por James Foley, el filme que da continuación a la cinta Fifty Shades of Grey (2015) se estrenará en las salas de cine de Estados Unidos el 10 de febrero del 2017.