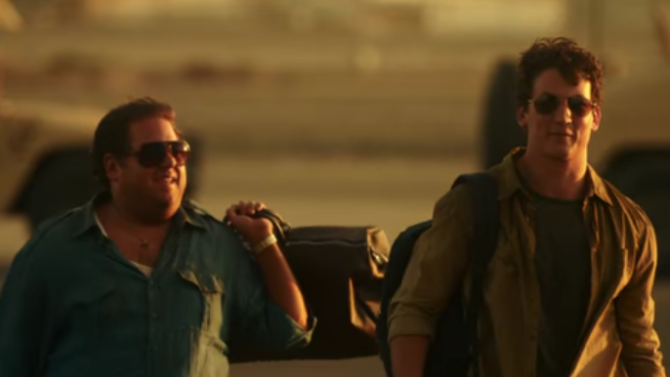 La compañía cinematográfica Warner Bros. Pictures, presentó el tráiler oficial de la esperada película War Dogs. El filme, protagonizado por el nominado al premio Oscar Jonah Hill (The Wolf of Wall Street) y Miles Teller (Whiplash), promete crear la unión perfecta entre la comedia y la acción.
Dirigida por Todd Phillips, creador de la exitosa trilogía de The Hangover, la cinta está basada en la historia real de dos amigos que viven en Miami durante la primera Guerra de Irak, quienes usaron a su favor una iniciativa gubernamental que permitía que pequeños comerciantes realizaran ofertas para los contratos militares en Estados Unidos. Lo que comenzó con pequeñas ofertas, se convirtió en un contrato de $300 millones para armar al ejército afgano, mientras continuaban sus negociaciones con el gobierno de Estados Unidos.
La película, pautada a estrenarse en los cines de Estados Unidos el 19 de agosto de este año, cuenta también con la participación de Ana de Armas y Bradley Cooper, quien también trabajó en el equipo de producción.
El guión de War Dogs fue escrito por Stephen Chin, Todd Phillips y Jason Smilovic. Este mismo está basado en el artículo de la revista Rolling Stone, titulado Arms and the Dudes, escrito por Guy Lawson.