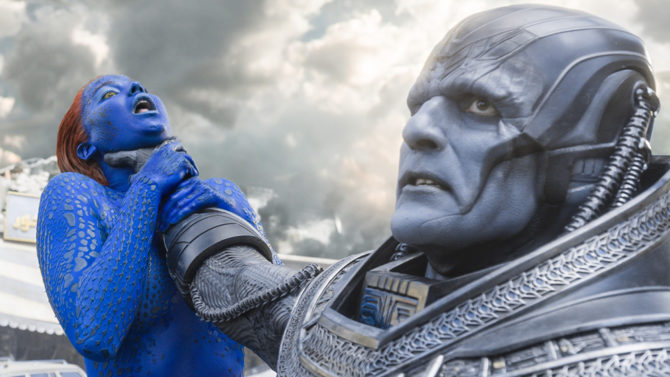 Este fin de semana largo en los Estados Unidos, dos esperadas películas batallaron en la taquilla: Se trata de X-Men: Apocalypse, del estudio Fox, y de Alice Through the Looking Glass, de Disney.
La expectativa creada por la nueva amenaza que enfrentarían los mutantes de X-Men logró imponerse sobre su rival, ya que la cinta recaudó un monto estimado de $65 millones. Según información recogida por Variety, se estima que la película dirigida por Bryan Singer llegue a recolectar un total de $76 millones a lo largo del fin de semana.
Sin embargo, X-Men: Apocalypse representó un paso atrás en relación al éxito obtenido por su predecesora, X-Men: Days of Future Past, película que logró recaudar  $110.5 millones al momento de su estreno durante el fin de semana de Memorial Day en 2014. En la taquilla internacional, es una historia diferente, ya que la nueva entrega de los Hombres-X ya ha recolectado un total de $185.8 desde el momento de su estreno.
Por su parte, Disney enfrenta una decepción con el estreno de Alice Through the Looking Glass, la secuela de Alice in Wonderland, de 2010. La película protagonizada por Johnny Depp -quien se encuentra en medio de complicadas acusaciones de violencia doméstica por parte de su esposa Amber Heard– y Mia Wasikowska, ha logrado recuadar un total de $28.1 millones en la taquilla, una cifra preocupante al considerar que la cinta contó con un presupuesto de $170 millones.
Al momento de su estreno, la primera entrega de este clásico de Disney fue un rotundo éxito entre la audiencia y destacó con $1 billón de ganancias durante su estadía en las salas de cines. En aquella ocasión, fue Tim Burton quien se sentó en la silla de director.
¿Y tú, qué película fuiste a ver en cines  este fin de semana festivo?