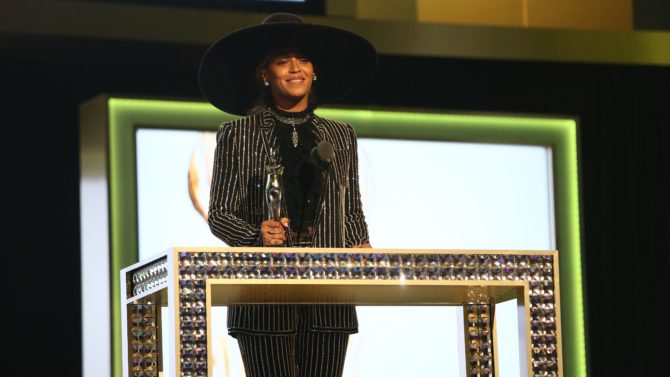 El momento más memorable de la entrega de los CFDA Awards 2016, en el Hammerstein Ballroom de New York, se dio cuando Beyoncé recibió el premio Ícono de la Moda.
A diferencia de otros reconocimientos especiales como el Premio Internacional, que fue otorgado a Alessandro Michele, director creativo de Gucci, no hubo ningún anuncio previo de quién recibiría el premio Ícono de la Moda, así que todo fue una verdadera sorpresa. Eso sí, a medida que se acercaba el momento de la entrega, los rumores inundaron Twitter.
RELACIONADO La alfombra roja de los CFDA Fashion Awards [FOTOS]
La cantante de 34 años, quien aceptó el premio luciendo llamativo traje sastre Givenchy, relató a los asistentes la manera en la que la moda ha influenciado su vida desde pequeña y cómo esa apreciación por el buen vestir fue transmitida de generación en generación en su familia, partiendo de unos orígenes humildes.
"La moda ha sido siempre parte de mi vida. Sus efectos en mí comenzaron antes de nacer. Muchos de ustedes no lo saben, pero mi madre era costurera. Mis abuelos no tenían suficiente dinero y no podían permitirse pagarle un colegio católico a mi madre, así que mi abuela cosió ropa para los curas y monjas, e hizo uniformes para los estudiantes a cambio de la educación de mi madre. Después transmitió ese regalo a mi madre y la enseñó a coser", contó la cantante en su emotivo discurso.
RELACIONADO Beyoncé y Jay Z, juntos en la alfombra roja de los CFDA Fashion Awards
A continuación la lista completa de ganadores de la noche:
Fashion Icon Award: Beyoncé
Womenswear Designer of the Year: Marc Jacobs
Menswear Designer of the Year: Thom Browne
Accessories Designer of the Year: Mansur Gavriel: Rachel Mansur and Floriana Gavriel
Swarovski Award for Womenswear: Brandon Maxwell
Swarovski Award for Menswear: Orley: Alex Orley, Matthew Orley, Samantha Orley
Swarovski Award for Accessory Design: Paul Andrew
Geoffrey Beene Lifetime Achievement Award: Norma Kamali
The Media Award in Honor of Eugenia Sheppard: Imran Amed, editor in chief of The Business of Fashion
The Founder's Award in Honor of Eleanor Lambert: Donna Karan
International Award: Gucci: Alessandro Michele
Board of Directors' Tribute Award: David Bowie
¡Hasta el próximo año!