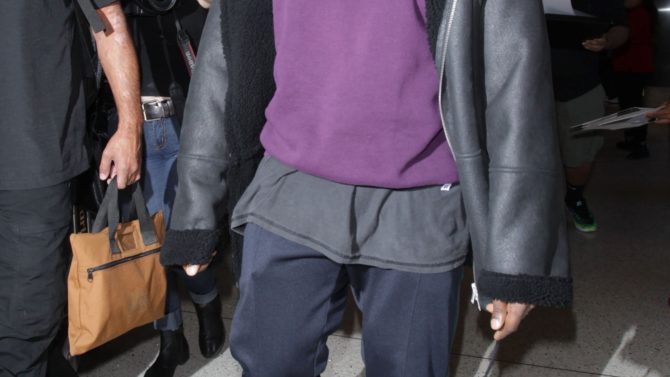 A medida que pasan las horas han comenzado a aflorar muestras de solidaridad hacia Kanye West, quien fue hospitalizado la tarde del lunes 21 de noviembre en Los Ángeles California.
Tanto personas de la industria de la música como sus seguidores más fieles le han deseado a través de las redes sociales que se mejore pronto y que reciba la ayuda necesaria en estos momentos.
El cantante se encuentra internado en el UCLA Medical Center luego de que cancelara el resto de sus conciertos de la gira Saint Pablo. Durante las últimas presentaciones, expresiones de Kanye no fueron bien recibidas por algunos de los presentes, unos lo abuchearon y otros hasta se fueron del recinto.
VER TAMBIEN Un tercer embarazo pondría en peligro la vida de KimKardashian
El jueves 17 de noviembre en San José, California, Kanye dijo en medio de su presentación, que si hubiera votado en las elecciones, lo habría hecho por Donald Trump. Personas en la audiencia no recibieron el comentario con agrado.
Luego, durante otra presentación en Sacramento criticó a colegas como Beyonce, Jay Z y terminó el concierto después de interpreter varias canciones. Su proxima presentación, que era en Los Ángeles, fue cancelada a solo horas de que iniciara.
No obstante, personas dentro de la industria no han dejado solo a Kanye, como por ejemplo la cantante Janelle Monáe, quien expresó en su cuenta de Twitter que se encontraba orando por el interprete.
PRAYING FOR KANYE. PRAYING HE HAS THE RIGHT ENERGY SURROUNDING HIM DURING THIS TIME. SENDING PEACE AND LOVE. ????????

— Janelle Monáe, Cindi (@JanelleMonae) November 22, 2016
//platform.twitter.com/widgets.js
Otro que también habló fue Andy Lasser, productor ejecutivo de The Ellen Show, quien afirmó que esperaba que el cantante estuviera bien y recibiera la ayuda que necesitaba.
The easy thing to do is make Kanye West jokes.
The compassionate thing to do is hope he's ok and gets the help he needs.

— andy lassner (@andylassner) November 22, 2016
//platform.twitter.com/widgets.js
Por su parte, el actor Emile Hirsh indicó que había estado en la situación de Kanye y que le deseaba que recibiera ayuda.
Hey @kanyewest , get better man! People are making jokes right now, but having been there myself, I hope he gets the help he needs.

— emile hirsch (@EmileHirsch) November 22, 2016
//platform.twitter.com/widgets.js
Mientras tanto, el actor y comediante Marlon Wayans también le deseó lo mejor a Kanye en estos momentos.
And I hope u all pray for @kanyewest too. He's not just an artist but he's a father, a son a husband and above human. Get well soon

— marlon wayans (@MarlonWayans) November 22, 2016