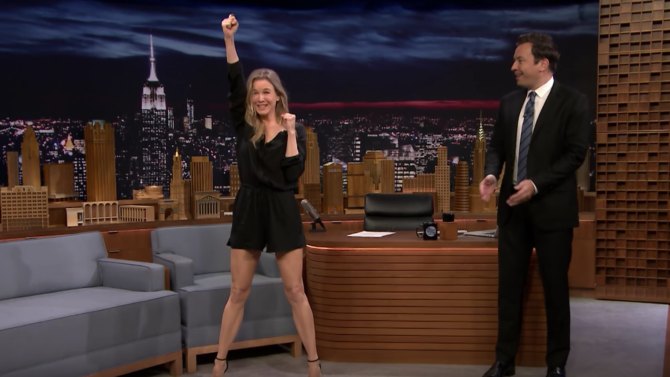 La actriz Renée Zellweger volvió a su época de adolescente en Texas al mostrar sus movimientos de porrista en The Tonight Show with Jimmy Fallon.
Después de ser entrevistada por Fallon, la protagonista de Bridget Jones's Baby se paró frente a las cámaras junto al conductor y enseñarle su rutina cuando era cheerleader del equipo Tigers..¡Y recordó cada palabra!
Para que el comediante y conductor pudiera seguirla, la estrella de 47 años tuvo que hacer una rutina más fácil. Y para eso no dudó en quitarse los tacones.
"Si das una buena patada, no importa cómo sigue el canto", le dijo Zellweger a Jimmy Fallon.
VER TAMBIÉN Renée Zellweger dice que ser madre nunca ha sido una prioridad para ella 
La actriz, que fue invitada para promocionar la película Bridget Jones's Baby, también hizo un sketch vestida de robot junto a Fallon, que estuvo disfrazado de un enorme Santa Claus, para meterse en una "lucha libre".
Bridget Jones's Baby se estrenará este viernes 16 de septiembre en los Estados Unidos.