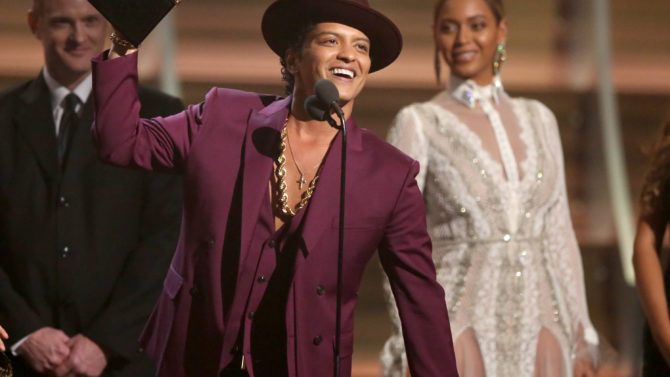 Bruno Mars y Mark Ronson se llevaron uno de los premios más preciados de la noche: "Grabación del año".
Durante la entrega número 58 de los Premios Grammy los artistas fueron reconocidos por su trabajo en el exitoso tema "Uptown Funk". El galardón fue anunciado y entregado por la interprete de "Run The World", Beyoncé, quien llegó al escenario con un espectacular vestido blanco.
Ronson agradeció a todos los que colaboraron en la creación del tema, mientras que Bruno Mars dedicó el reconocimiento a todos sus fanáticos y añadió que nada sería posible "si no fuera por todas las personas que han bailado esta canción".
Los otros nominados en la categoría "Grabación del año" fueron: D'angelo and the Vanguard (Really Love), Ed Sheeran (Thinking Out Loud), Taylor Swift (Blank Space) y The Weeknd (Can't Feel My Face).
Esta nueva edición de los premios Grammy se llevó a cabo en el Staples Center de Los Ángeles, California. El espectáculo duró un poco más de tres horas y culminó con la presentación de Pitbull, quien interpretó su tema "El Taxi" y llegó a la tarima acompañado de la colombiana Sofía Vergara.