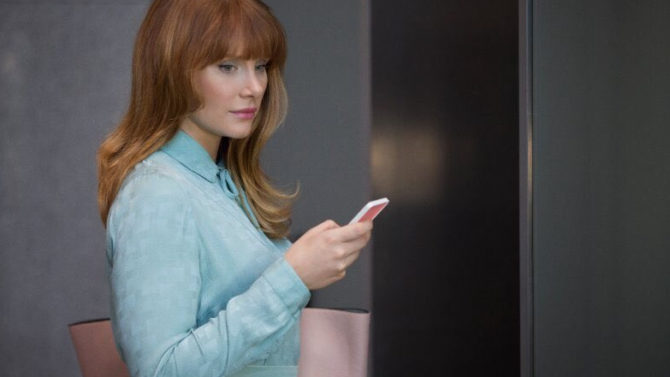 Cuando comenzó este año, Netflix confirmó que la serie británica Black Mirror tendrá una tercera temporada de doce episodios. Y este jueves, 18 de agosto, el cineasta Charlie Brooker publicó las primeras imágenes de la nueva entrega, la cual estrenará el 21 de octubre.
Gracias a estas fotos podemos adelantar la participación de Bryce Dallas Howard (Jurassic World), Mackenzie Davis (Halt and Catch Fire) y Gugu Mbatha-Raw (Doctor Who).
Hace unos meses se confirmó que Dan Trachtenberg será el director de uno de los episodios de la nueva temporada. En la entrega anterior se pudo ver que, aunque la serie gira en torno a cómo la tecnología afecta (o destruye) nuestras vidas, cada uno de los capítulos es completamente diferente porque varían de directores.
Joe Wrigh
t (responsable de
Anna Karenina
) y
Jakob Verbruggen
(director de dos
episodios de House of Cards
) también dirigirán dos capítulo en
Black Mirror. 
Aunque poco a poco seguirán sumándose nombres de directores, Brooker continuará en su puesto de productor ejecutivo. Recordemos que fue él quien creó la serie la cual se estrenó en 2011.
Cuando Black Mirror hizo su debut, Brooker le explicó a The Guardian: "Si la tecnología es una droga —y se siente como tal— entonces, ¿cuales son los efectos secundarios? Esa área, entre el placer y el malestar, es donde Black Mirror se establece. El 'espejo negro' (black mirror) del título es lo que encontrarás en cada pared, en cada escritorio, en la palma de cada mano: la pantalla fría y brillante de un televisor, un monitor o un teléfono inteligente".