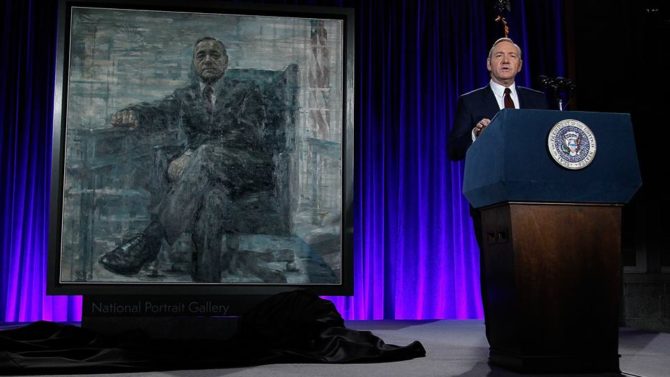 Frank Underwood, el personaje principal de la serie de House of Cards, interpretado por Kevin Spacey, está listo para formar parte de uno de los museos más prestigiosos de Estados Unidos: La Galería Nacional de Retratos del Museo Smithsonian en Washington D.C.
El mismísimo Spacey estuvo a cargo de la presentación de este peculiar retrato pintado por el artista británico Jonathan Yeo. "Como Francis Underwood no cree en los límites del mandato, no veo por qué no deberíamos añadir el cuadro en este momento", dijo el protagonista del show en su discurso haciendo referencia a una norma que existe en esta galería donde el retrato del presidente se añade a la colección una vez que el primer mandatario culmina su jornada en la Casa Blanca.
En la pintura de enormes dimensiones, Underwood, aparece sentado en una silla y con las piernas cruzadas. La típica imagen presidencial.
El cuadro de este personaje acompañará a una serie de importantes ex presidentes de la historia política de Estados Unidos como es el caso de George Washington, Abraham Lincoln, Ronald Reagan, Richard Nixon y George W. Bush.
La cuarta temporada de House of Cards será lanzada el 4 de marzo.