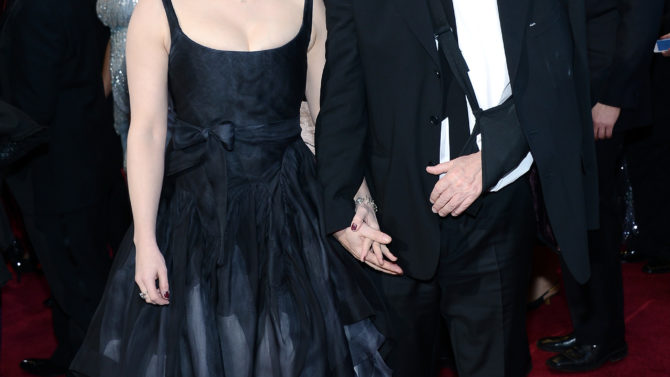 Director Tim Burton and his muse Helena Bonham-Carter have called it quits after 13 years together.
According to a statement sent to People by Bonham-Carter's rep, the couple "separated amicably earlier this year and have continued to be friends and co-parent their children. We would ask that you respect their privacy and that of their children during this time."
The pair never actually married, and has two children: a son, Billy, 11, and a daughter, Nell, 7.
Burton, 56, and Carter, 48, first met on the set of the "Planet of the Apes" remake in 2001 and have since collaborated on several feature films, including "Corpse Bride,"  "Charlie and the Chocolate Factory," "Alice in Wonderland," "Sweeney Todd: The Demon Barber of Fleet Street," "Dark Shadows," and "Big Fish."
In a very Diego Rivera – Frida Kahlo style living arrangement, the two live in two 19th-century adjoining houses in Belsize Park, London, connected by an elaborate walkway. Carter once joked in an interview, "Tim does snore, and that's an element. We've tried lots of remedies that don't work. He has a deviated septum and doesn't want an operation."
Bonham-Carter famously dated Kenneth Branagh before Burton, after starring together in "Mary Shelley's Frankenstein." Though Branagh was still married to actress Emma Thompson at the time, Bonham-Carter and her co-star reportedly began dating on the set of the 1994 movie. Branagh and Thompson eventually confirmed their separation in 1996 and Bonham-Carter and Branagh went public with their relationship shortly after, ending it in 1999.
In 2013 Thompson told the UK's Sunday Times that she and Bonham-Carter had made their peace over the affair. "You can't hold on to anything like that. It's pointless. I haven't got the energy for it. Helena and I made our peace years and years ago."
Bonham-Carter will next appear in the Branagh-directed live-action retelling of "Cinderella," out March 13, 2015, as the Fairy Godmother.
Burton's latest critically acclaimed film, "Big Eyes," stars Amy Adams as painter Margaret Keane and comes out Christmas Day.