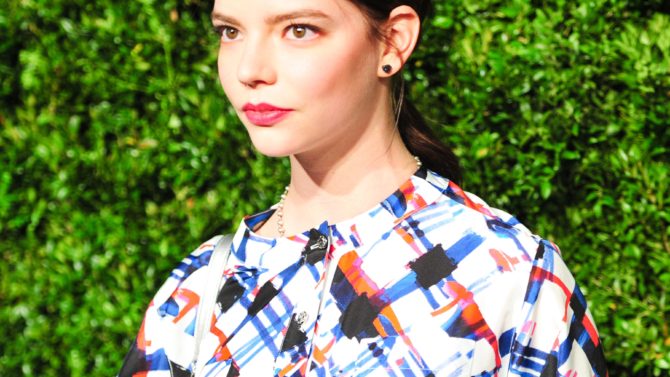 Anya Taylor-Joy may not look like what most consider a "typical" Latina, but she's very proud of her Argentinian roots. Taylor-Joy, whose film Morgan opened up in theaters on Friday, admits she feels more like a Latina at the moment since her naturally blond hair has been dyed to dark brown. But none of that matters when it comes to picking a role on the big screen since she prefers to not be limited by gender or background.
"I think there shouldn't be typical roles for anything including gender, which is one of my favorite things about [Morgan]," Taylor-Joy explained to Variety Latino. "I think the thing that I'm most proud of, which is going to sound strange, is the fight scene [with Kate Mara]. There's nothing sexy or demure or kind of feminine really about [Morgan and Lee]. It's two women beating the shit out of each other in the same way you see two men do it.
I think that hasn't really been seen on film before and anything groundbreaking in that way kind of opens things up a little more— that's always good. Films can sometimes get stuck on the archetype and it shouldn't. It should be making art and it should be different and new and to push boundaries. I'm very proud to be a part of it."
Creating the character of Morgan was one of Taylor-Joy's favorite experiences from making the film. Director Luke Scott created the world where Morgan would exist and he allowed her and co-star Jennifer Jason Leigh to play in it as they imagined who she would be.
"I was very very lucky because I went out a couple of weeks earlier and Leigh and I would talk for about an hour every day to create Morgan," Taylor-Joy said. "And every day it was different. Every day she had a different incarnation and then all of a sudden she sent me this unbelievable clip of this girl who had been locked in a room for such a long time. It was heartbreaking. The second I looked into her eyes I said, 'This is Morgan.' We came up with Morgan together. It's just wonderful when you create something that is bigger than what you could've brought by yourself."
Taylor-Joy invites audiences to watch the film and soak up everything at least once. Then, watch it again and see what new things you pick up. Morgan is definitely the type of film that leaves a lot to viewer interpretation and she loves that.
"My favorite kind of movies are where I go in and leave wanting to look something up," she explained. "With Morgan, you come in with questions and then you leave with more. So hopefully it will start conversations."
Up next for Taylor-Joy is the horror thriller Split directed by M. Night Shyamalan, in theaters January 2017. The film tells the story of Kevin (played by James McAvoy), a man with at least 23 personalities who abducts three teenage girls. Throughout the film, McAvoy brings to life these personalities who vary in sex, age, and background.
"James is phenomenal and I'm so unbelievably blessed to have worked with all these incredible actors and to get to watch them work," she said. "I didn't go to acting school so I'm learning from everyone I'm working with. James is so generous as a performer and we really had each other's back. To get to watch him do that, I mean he really is an astonishing actor and a really amazing human being. He's a real joker too! That man loves his pranks and you are never safe. He will prank you during a take, he's awesome. It was incredible to work with him."