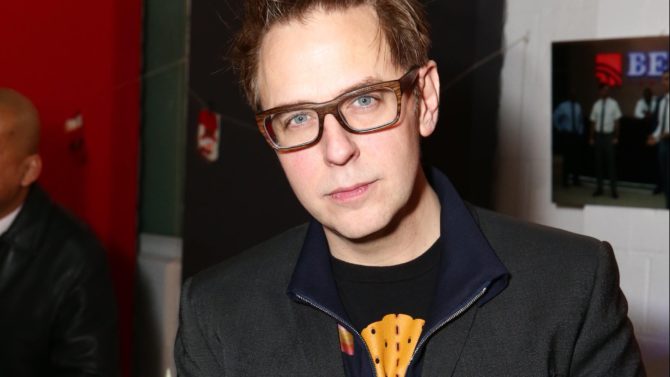 James Gunn and the cast of The Belko Experiment gathered together to celebrate the debut of their first trailer in Los Angeles on Wednesday night. The horror thriller with comedic elements, written by Gunn, stars Tony Goldwyn, Sean Gunn, Adria Arjona, John C. McGinley, Michael Rooker, and Owain Yeoman in a story about an American business located in Colombia put in a terrible predicament. They have to choose three people in the group to kill or more will end up dead, as part of a social experiment.
Gunn spoke to Variety Latino at the Office Christmas Party to learn more about the concept as well as to find why he chose Bogota as the location of their high-rise corporate office.
"We went down to Colombia for the Cartagena Film Festival and we had such a fun time, Gunn told Variety Latino. "Then we found out that they have great deals and tax rebates to shoot there so I said, 'hey, let's all go to Colombia!' So that's why we shot it in Colombia specifically but it was always going to be someplace that wasn't the United States."
He added, "I love South America in general. I've spent time in Argentina, and now a lot of time in Colombia. Tomorrow morning, I'm going to Brazil. I really liked the Colombian people. I liked the warmth and the food. There's this sort of uptight thing we have living in Los Angeles and I go to South America and I'm instantly happier. I like that I can travel to a place that's very different than where I live. There's a lot of things I love about Colombia. It was just a really great place to make a movie."
The cast didn't stick to their hotel rooms or stay on set when they were in Bogota. Gunn remembers some fun times with the cast mixing and mingling with the locals.
"I got to do a lot of dancing in Colombia. But you don't want to see our white boy dancing! There was some great dancing between me, Tony Goldwyn, and Owain Yeoman one night we went dancing at about 3 o'clock in the morning at some bar in Colombia. I think there are some videos out there somewhere that I have to pay someone to not release."
But the question of the night was, who would Gunn kill if he was put in the same predicament as his characters were in the film?
"My brother Sean, Rooker, this is easy! The third one is hard," he explained. "Can I kill Rooker three times? That's what I would really like to do. If I could kill Rooker three times, or like brutally murder Rooker then just casually murder my brother. Maybe I can get two for the price of one?"
Although he jokes about picking his brother Sean to die, it might be tough for him to find someone as dedicated to his work for future collaborations. The duo has been working together since they were youngsters. Plus Sean has quite a meaty role coming up in Guardians of the Galaxy 2, according to Gunn.
"We've worked together since—not only my first professional movie I ever made— but the first movie I ever made when I was 12 years-old. It showed Sean disemboweling our other brother and eating him because he was a zombie. It was really disgusting! But it was so poorly done that it really wasn't that bad. Just a bunch of red food dye."
The Belko Experiment opens in theaters on March 17.