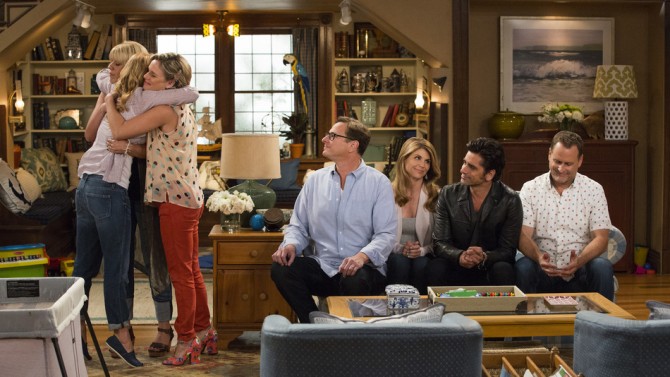 Netflix brings a diverse and entertaining mix of classics and new original series to its February slate.
Nostalgia reigns big this month with the long awaited premiere of Fuller House, spin-off to the 90's hit Full House. The Tanner family, minus Michelle, return on Feb. 26. Another classic with a twist includes the second season of Care Bears & Cousins on Feb 5. and the 2002 film, Scooby Doo on Feb 1st.
Other noteworthy credits include the final (half) season of Mad Men, the first season of Better Call Saul and the Judd Apatow Netflix original series starring Paul Rust and Community's Gillian Jacobs, Love.
Check out the full list below of what's coming in February.
February 1
A Picture of You (2014)
Armageddon (1998)
Better Call Saul: First Season
Charlie's Angels (2000)
Collateral Damage (2002)
Cruel Intentions (1999)
A Faster Horse (2015)
Full Metal Jacket (1987)
Game Face (2015)
Jennifer 8 (1992)
Johnny English (2003)
The Little Engine That Could (2011)
The Lizzie Borden Chronicles: First Season
Losing Isaiah (1995)
Masha's Tales: First Season
My Side of the Mountain (1969)
Para Elisa (2012)
Pokemon the Movie: Diancie and the Cocoon of Destruction (2014)
Pokemon: XY: First Season
Scooby-Doo (2002)
Scooby-Doo 2: Monsters Unleashed (2004)
Sin City (2005)
Star Trek V: The Final Frontier (1989)
Stardust (2007)
Talladega Nights: The Ballad of Ricky Bobby (2006)
Teen Witch (1989)
Tin Man: "Search for the Emerald" (2007)
The Year Dolly Parton Was My Mom (2011)
February 2

Land Before Time: XIV: Journey of the Brave (2016)
February 3

I Love You Phillip Morris (2009)
February 4
Love (2015)
February 5
Care Bears & Cousins: Segunda temporada – (Netflix Original Series)
Hannibal Buress: Comedy Camisado – (Netflix Original Series)
Mad Men: Second Part of the 7th Season
Turbo: F.A.S.T.: Tercera temporada – (Netflix Original Series)
February 6
Lila & Eve (2015)
February 10

Dope (2015)
The Girl in the Book (2015)
February 13

The Face of Love (2013)
February 15

Open Season (2006)
XXY (2007)
February 16
Asthma (2015)
Atonement (2007)
February 17
The Returned: Second Season
February 19

Cooked: First Season – (Netflix Original Series)
Love: First Season – (Netflix Original Series)
February 22
3rd World Cops 2 (2015)
February 23

Bare (2015)
February 24

Marvel Super Hero Adventures: Frost Fight! (2015)
February 26
Crouching Tiger, Hidden Dragon: Sword of Destiny (2016) – (Netflix Original)
Fuller House: First Season – (Netflix Original Series)
Theo Von (2016) – (Netflix Original)
February 27

Finding Vivian Maier (2013)
February 29

Ashes and Embers (1982)