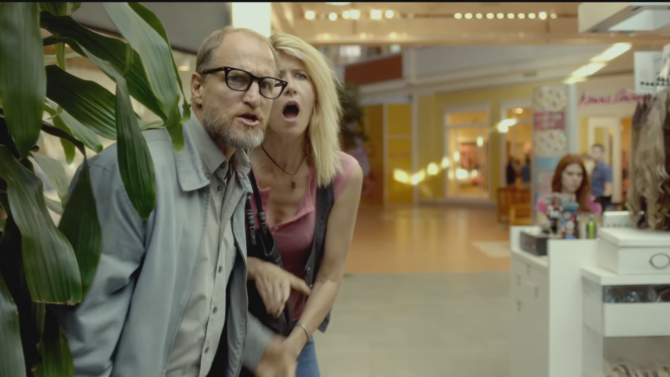 The official red band trailer for the upcoming film Wilson was released on Thursday. Woody Harrelson stars as the neurotic-yet-honest title character based on a graphic novel of the same name by Daniel Clowes. In the trailer, audiences can see Wilson as he goes on a journey that leads him back to his estranged wife Pippi (played by Laura Dern). Throughout this crazy journey, he discovers he has a grown-up daughter named Claire (Isabella Amara) Pippi never told him about that she put up for adoption 17 years ago.
"How could you not tell me we had a daughter," Harrelson as Wilson asks Dern as Pippi while the latter is working at a restaurant as a server in the new trailer. Pippi looks back at him shockingly while two customers interrupt the interaction. Wilson yells at the second complaining diner, "Hey D!ckhead, shut the F up. Can't you see that this woman is having a profound moment?"
The duo proceed to stalk their biological daughter Claire while at a shopping center. Wilson, who is extremely happy to be a father, beats up a guy who makes fun of her for her weight. There's really no telling where this story will lead as Wilson explores what it's like to be a father.
Wilson opens in theaters on March 24.