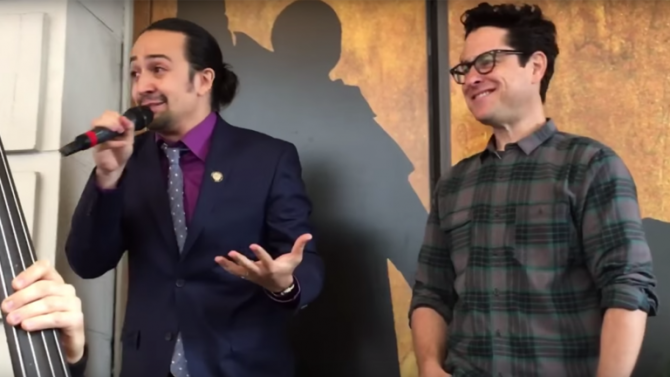 In celebration of May 4th, aka Christmas day for Star Wars fans, Lin Manuel Miranda performed the new Cantina Song from Star Wars: The Force Awakens, which Miranda wrote for the film. And, to top things off he invited director J.J. Abrams to join in on the fun.
The performance was part of the weekly Ham4Ham show that Miranda puts on in front of the Richard Rodgers theater, where his uber popular musical Hamilton is staged.
In the video, Abrams explains that while attending a Hamilton show over a year ago, he ran into Miranda during intermission and that's when the performer joked, "If you need music for the cantina, I'm your guy." An offer Abrams couldn't resist, responding: "You're not going to believe this but I do need music for the cantina."
The song is in Jabba the Hutt's native language of Huttese and according to Miranda, it literally translates as "No lover, lover, it's not me." Miranda jokingly explained that the song is "literally a Shaggy intergalactic remix."
The duo then launch into an accompanied version of the song titled "Jabba Flow," which became available today on iTunes.