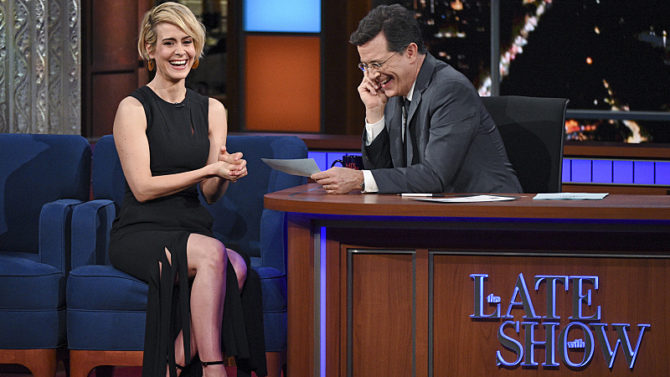 Sarah Paulson appeared on The Late Show with Stephen Colbert on Thursday to promote her hit television series The People v. O.J. Simpson: American Crime Story. The actress plays prosecutor Marcia Clarke in the show but oddly enough confessed she doesn't watch the show.
"I'm like the only person in America not watching it," Paulson said to Stephen Colbert. "I'm going to wait until it's all over."
Paulson also revealed that she's actually smoking cigarettes during all of the scenes on the show.
"When we first started I was coughing a lot," Paulson explained, "Eventually I started to be like . . . I was ready for a smoke. I was like, 'Hey, hey!' It got me a little crazy for the ciggies. I also smoke in American Horror Story and I was shooting them at the same time so it was a real situation."
When asked about her perception of Clarke, Paulson responded: "She was considered to be a strident, really aggressive attorney," she said. "If she was a man, these would be positive terms. No one would talk about his bad suit or his bad hair."
The People v. O.J. Simpson finale airs Tuesday, April 5 at 10 p.m. on FX.