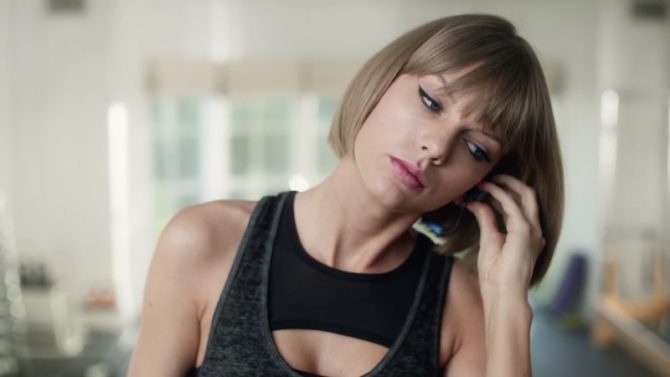 Taylor Swift showed off her rapping skills in a new ad campaign for Apple Music. The video ad was released on Friday and features Swift flowing to Drake and Future's Jumpman while running on a treadmill.
Swift gets so distracted singing, she misses a step and before she knows it, falls off the treadmill, face first. And despite the mishap she continues to rap while on the floor. The ad ends with the phrase, "Distractingly good."
Swift shared the commercial with her 74 million Twitter followers with the hashtag #TaylorVsTreadmill.
The commercial plugs Apple Music's three-month trial with the tagline "All the music you want." June 30 marks the one-year anniversary of Apple Music's launch.
Last year, Swift convinced the company to change their royalty policy in order to properly compensate musicians whose music is streamed on the app. "Apple Music will pay artist for streaming, even during customer's free trial period," Apple Music's Internet Software and Services Eddy Cue posted on Twitter in June. "We hear you @taylorswift13 and indie artists. Love, Apple."
Swift is slated to appear at the iHeartRadio Music Awards on Sunday. She last collaborated with Apple on her 1989 tour concert film.