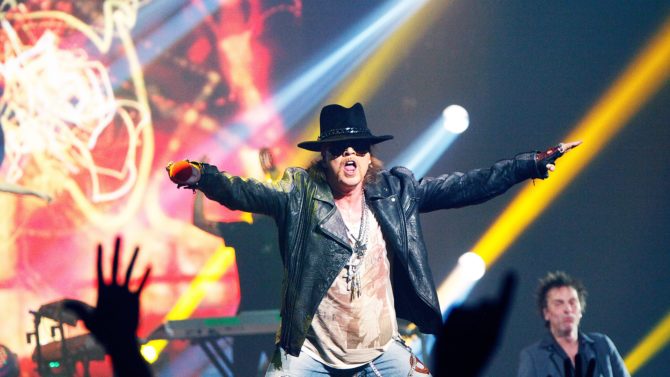 Axl Rose, Slash, Duff McKagan and the rest of the band's current iteration will head out on tour this summer. The group tweeted a video Friday, revealing 21 cities where they'll perform. Tour dates will be announced at a later time.
Guns N' Roses will reunite in Coachella next month and are also scheduled to play April 8th and 9th at Las Vegas' T-Mobile Arena.
Earlier this month, guitarist and co-founder Izzy Stradlin announced he wouldn't be joining the band for any of their April shows, which also includes a few performances in Mexico.
"At this point in time, I will not be playing at any of the April 2016 GNR shows," he said to Rolling Stone. "I've also not been in the studio recording or writing with any of the others recently."
Check out the North American cities where the Guns N' Roses reunion tour will visit:
Atlanta, GA
Boston, MA
Chicago, IL
Cincinnati, OH
Dallas, TX
Detroit, MI
Houston, TX
Kansas City, MO
Nashville, TN
New Orleans, LA
New York
Orlando, FL
Philadelphia, PA
Phoenix, AZ
Pittsburgh, PA
San Diego, CA
San Francisco, CA
Seattle, WA
St Louis, MO
Toronto, ONT
Washington, DC