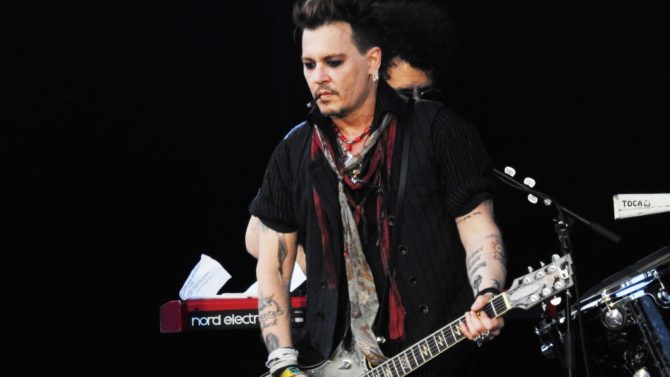 Johnny Depp has taken a break from acting to go on tour with his band, Hollywood Vampires, amidst legal troubles with his estranged wife Amber Heard. He and bandmates Matt Sorum, Robert DeLeo and Bruce Witkin visited 95.5 KLOS Jonesy's Jukebox radio show to discuss their rock 'n' roll adventures and Depp's music and acting career. One thing that was not open for discussion was his impending divorce from Heard, who filed a restraining order against him for alleged domestic abuse in May.
Depp admitted his first love was music. He dropped out of high school while living with his family in Miramar, Florida to become a rock musician. At the age of 17, he joined Witkin's band The Kids and they toured all over the Sunshine State.
"I started playing when I was about 12 and I started playing clubs around 13 in Miami," Depp said about getting his start in music before acting. He explained he got into acting. "Just by accident. I needed to pay rent. Somebody said, 'why don't you go meet an agent?' My agent is with Nic Cage so she said, go meet my agent. She sent me to auditions for something and I got it. Seemed like a good way to pay the rent for a minute."
After finding he was really quite good at acting, his music career took a bit of a backseat. But today as he performs as part of the Hollywood Vampires, he remembers how he felt all those years ago.
"The one thing that I've always fought is just the idea of being the novelty," Depp said. "It's interesting because the kids that show up at the gigs are so responsive to the material. So maybe initially [they come see me because they know me from movies] but it really spreads out when Joe Perry kicks into some really unusual solo or Alice [Cooper] goes out there and screams."
The Hollywood Vampires just wrapped up a European tour and will be heading out around the U.S. starting on July 7 with the kick-off in Bethlehem, Pennsylvania.