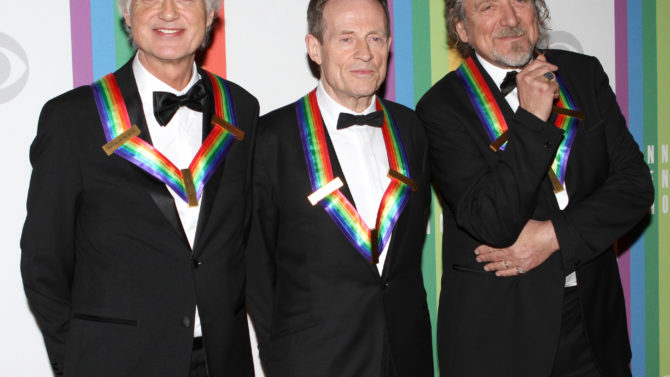 Led Zeppelin's surviving members Robert Plant, Jimmy Page and John Paul Jones are heading to court this coming Tuesday to defend themselves against a copyright infringement case. The Estate of Randy Craig Wolfe, a.k.a. Robert California, is claiming the legendary band stole the riff in the intro of "Stairway to Heaven" from Wolfe's local LA band Spirit. Both bands shared the stage early in 1968, which could have made it possible, in theory, for Led Zeppelin to have heard Spirit's song "Taurus".
"Stairway.." was released in 1971 in the band's untitled fourth album, which sold more than 37 million copies worldwide. Spirit had released their short instrumental piece "Taurus" three years before that.
SEE ALSO Radiohead to Live Stream New Album at Record Stores Globally
"The precedent is you can't copyright a rhythm or Bo Diddly would have been the richest man alive," former Rolling Stone and Vibe editor Alan Light told Yahoo. "And you can't copyright a chord sequence or all the jazz players who were just playing variations on "I've Got Rhythm" by George Gershwin…would all be illegal."
Experts, fans, and critics are split as to how the case will end, but the Wolfe Estate could potentially make millions if they can prove Plant and Page stole the riff.
Listen below and decide for yourself: