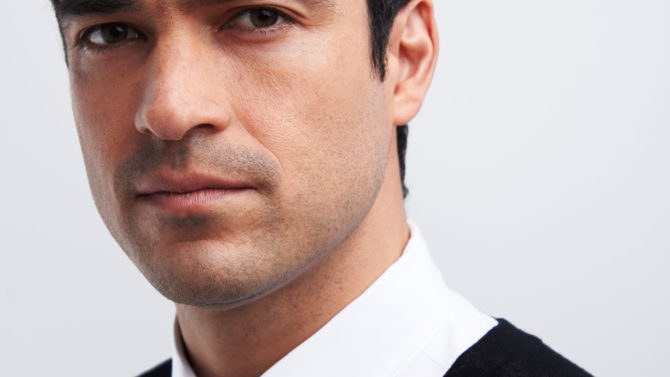 He rose to fame as part of Latin American music phenomenon RBD. Now, crossover actor Alfonso Herrera has scored a leading role in Fox's The Exorcist. In the TV series inspired by the 1973 namesake film, Herrera portrays father Tomas Ortega, a devout who a Catholic woman (played by Geena Davis) turns to when her house seems to have a demon living in the walls who's attempting to take one of her teenage daughters. He stars alongside Ben Daniels, Alan Ruck and Brianne Howey.
"This is a very interesting story, and it has a great script," Herrera told Variety Latino. "I think a good story starts with a good script because it gives you the possibility of having more rounded characters with vices and virtues. This creates three-dimensional characters, and that gives you the ability to play around."
But things don't stop there, the 33-year-old actor has a recurring role in the series Sense8, whose second season which has already wrapped and will be released in 2017. In addition, he stars in the movie The Chosen and series El Dandy.
"I prefer to keep my mind occupied by working on all these projects. It's better than being worried about looking for something to do… I feel very lucky. But all this is possible thanks to a great team. If you practice teamwork, things work better," says the actor, originally from Mexico City and who confessed the actor he admires most in the industry is Damián Alcázar.
Alfonso told us that, in fact, he never planned to pursue acting because his original goal was to study aviation in San Antonio, Texas. However, there is a saying that if you want to make God laugh, all you have to do is tell him your plans.
At 18 he was invited to his first audition since, as a hobby, he belonged to an amateur theater group. In the early 2000s, he was invited to an audition and scored a role on the film "Amar Duele" and then completed the cast of telenovela "Clase 406". Then he stared in "Rebelde" and, after that, the rest is history. Although he confessed that after each project, he always says one thing, "I think now I can begin to study aviation."
Fourteen years after Alfonso's first acting opportunity, a lot has changed in the entertainment industry. One of the things that have evolved, or at least has been on the spot lately, is the diversity that exists, or doesn't, in Hollywood.
Herrera believes that other Hispanic actors have, "paved the way a bit so that people like me can have a little more level ground."
Adding: "I think doors are opening for Latinos in Hollywood because the number of Latinos who live in this country and the amount of Latinos who are watching and consuming content is impressive. Networks are realizing how important we, Latinos, are in this market. They have realized how important we are in this country and I'm sure this is going to be on the rise." Alfonso also pointed out that it's time for Latinos to show that, in
Alfonso also pointed out that it's time for Latinos to show that in film they, "are much more than the drug dealer, the thief or the guy carrying drugs from Mexico to the United States."
When Herrera was asked if he could do it all again would he change anything, he surprisingly answered in the affirmative.
"You know what," he asked. "Yeah… I like it. I feel I have something to say. I feel I can contribute something. But, again, probably, when I finish all these projects, I might be able to work on my aviation career."