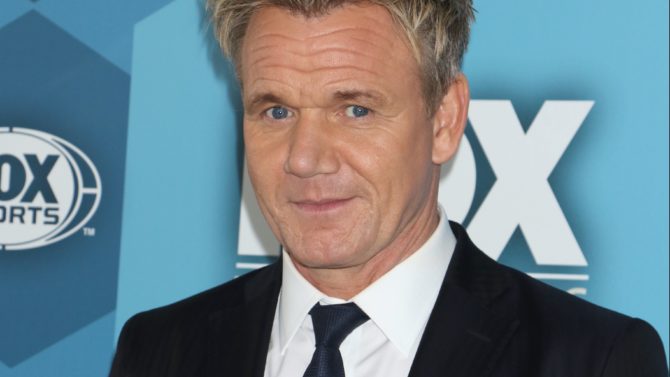 Season 7 of Fox's MasterChef is getting ready to wrap up on Wednesday night and Chef Gordon Ramsay has a lot to say about what viewers can expect. With home cooks Brandi Mudd from Kentucky and David Williams and Shaun O'Neale from Las Vegas ready to battle it out at 8/7c, it's still anyone's game.
"It's a big one," Chef Ramsay told Variety Latino about the finale. "Three [competitors] are in the finale, which we've never done before. Also for me to get to know them better and to get a little bit of a closer look, we went to their homes and surprised them.
So we knocked at the door of Brandi's school in Louisville, Kentucky, went to Vegas and popped in to see Shaun and David. It's a tight one this year, they all cooked so well. Each and every one of their dishes across every course were cooked like a pro. To me, they're all winners but there can only be one winner."
As Chef Ramsay mentioned, it was a very tough season thanks to all the amazing cooks competing. One standout that could've taken it all was Tanorria Askew from Chattanooga, Tennesse who made it into the top four.
When asked who he would give a second chance to in the competition if he could, Chef Ramsay responded, "Tanorria, Terry [Mueller]. And also we had a lot of support this year from the firefighters. They've got real jobs, they save lives. Some of these firehouses cook some of the best food locally. This whole year has just been a phenomenon and an incredible journey."
Adding, "You know it hurts when you see the other two [competitors] standing there that haven't won and they got so close. It's so tough, but rest assured Tenorria, Shaun, David, Brandi, they all have a great future in this industry. I don't want them to become chefs, but if they want to step into any kitchen of mine, then they've got it."
Someone familiar with the stress and anxiety that goes into winning top honors on MasterChef is season 6 winner Claudia Sandoval. The San Diego native recently released her first cookbook entitled, Claudia's Cocina: A Taste of Mexico and will be live Tweeting the finale with the east coast via @Claud_Oval
She offers these words of encouragement to Brandi, David, and Shaun:
"Season 7 is coming to a wrap and I feel like Miss America about to hand over her crown. This season has been quite the roller coaster and I can't wait to see who will be crowned America's Newest MasterChef. I do have some advice for the new winner though… Make sure you turn off Notifications on your phone! Because your life is about to completely change!"