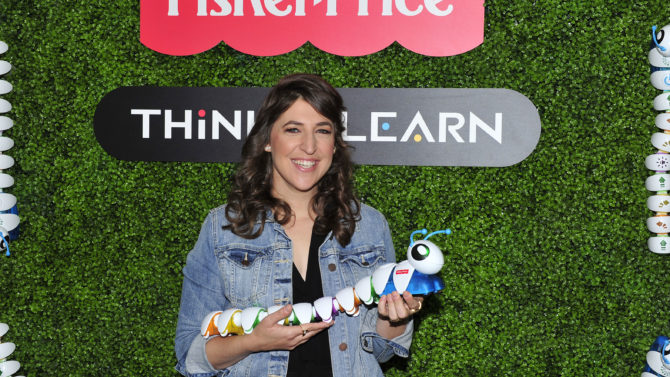 The Big Bang Theory is only two episodes into season ten and there hasn't been much happening for Amy. But according to Mayim Bialik, who plays the neurobiologist on the hit CBS comedy, there's a lot to come! Bialik, who spoke to Variety Latino from the first-ever Fisher-Price Think-a-Thon on Tuesday, discussed Amy and Sheldon's (Jim Parsons) "Living Together Experiment" when Sheldon moves into Amy's apartment.
"Amy and Sheldon actually start a living together experiment which you will start to see in the next episodes," Bialik told Variety Latino. "There kind of wasn't a lot for Amy and Sheldon in the first couple of episodes but we now have a pretty interesting plot going forward. I don't know how long it's going to continue. It's supposed to be a five-week experiment, so we'll see how long we drag that out."
Bialik wasn't able to share much more but when asked how she'd like to see the experiment turn out she said, "I think that people like Amy and Sheldon not doing it perfectly, meaning they have such an unusual relationship. It took them so many years to be intimate and I actually think that was a really special part of the relationship, so I'd like to keep that going. In an earlier edition of one of the scripts, they had them talking about coitus again but I kind of like that we're back to being a weird couple even if we're trying a conventional thing like living together."
The busy mom-of-two, scientist (both on and off screen), actress, and author also teased a little bit about what else you can expect to see this season.
"Bernadette is going to give birth at some point, her belly is getting bigger and bigger. So that's also something that's kind of working it's way through the whole cast. How we're all going to be affected by that."
As she wrapped up the chat, she headed off to interact with children invited to the special Fisher-Price event aimed to inspire little learners to be big thinkers. Their line of "Think and Learn" toys are designed to teach young learners 21st-century skills they'll need in the future.
"I was explaining to [my sons] how the skills that they are now learning as 8 and 11-year-olds, 3-year-olds today need to start understanding those kind of basic concepts. The idea isn't to force inappropriate or precocious information down their throats. This is what the brand is wired for, to understand information like this. These are the kind of toys that make it really interactive and creative and fun. That's the way your brain best learns is when it's fun and when you're with other people.