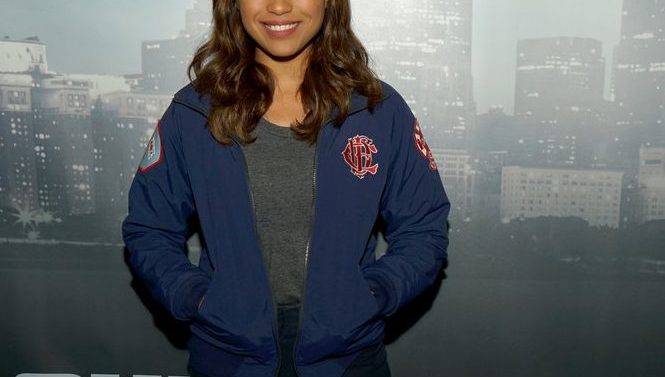 Monica Raymund is a proud Latina and she's extremely happy not play a stereotype of one on NBC's Chicago Fire. The Dominican star of the Tuesday night hit drama spoke to Variety Latino about playing the role of Gabriela Dawson, inspiring young Latinas, and the importance of playing a firefighter in the most authentic way possible.
"It's been a big part of my career so far," Raymund told Variety Latino about not playing a stereotype at the 'One Chicago Day' event in Chicago on Monday. "I have turned down jobs that I've been offered on TV shows, though I won't name which ones. I have been offered roles where it's housekeeping or very stereotypical roles that we have become accustomed to seeing [on TV]. I've turned down money because it's very important to me that I do not play those stereotypical roles if it's not worth the art. If integrity is not behind it, I'm not interested and they can get somebody else."
Adding, "I love that a lot of people don't know whether I am Latina or not because it shows that we've come a long way. It's important to me to be an example to other young Latinas everywhere that, 'hey, we can do and be anything too.' Just like all other men and women of all different backgrounds. We are all equal and that's powerful."
Chicago Fire is getting ready to celebrate their 100th episode and she couldn't be happier with all the details and characteristics the writers and creators put into her character each week.
"It feels like they know who Dawson is because of what I've brought to her," she said. "I think some of my personality is definitely in it. They also are able to create a fictional character where I have to challenge myself and fill those parts of her that I don't necessarily have. So it's become a really good marriage."
The cast of Chicago Fire works with firefighter/paramedic consultant Michelle Martinez who helps to keep things as authentic as possible. In fact, the episode where Steven R. McQueen's character Jimmy suffers a career-ending injury was shot on the anniversary of when Martinez lost her partner.
"These guys have to go to funerals several times a year," she explained. "They lose their buddies, not just their firehouse colleagues but their best friends. I know our consultant has lost several important people in her life. Hearing her talk about that and how difficult it was for her to go through that, it gives us purpose. It reminds us that what we're doing—sure, it's entertainment—but it's also really important to represent these stories."