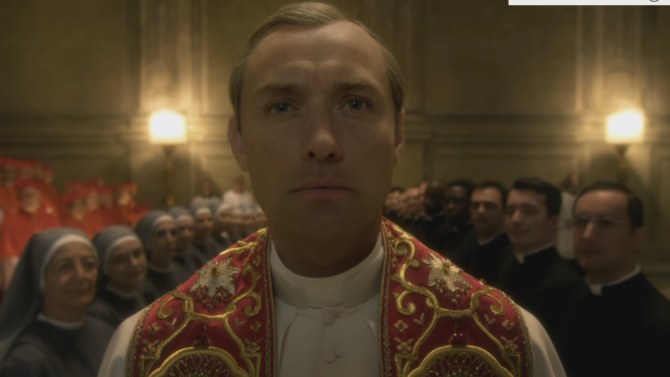 As the camera zooms out on Vatican City, we are introduced to Lenny Belardo, aka Pius XIII played by Jude Law in the trailer for the upcoming series The Young Pope. "I am a contradiction like Mary, the virginal mother; like man, good and evil; I'm God," Law says in the opening introduction. Belardo is a fictional pope who has been newly elected and is struggling with his responsibilities. In this clip, we also get our first glimpse of Diane Keaton who stars as Sister Mary. She's pretty significant to the American-born pope, she helped raised him and help him reach the papacy.
The 10-episode series was created and directed by Paolo Sorrentino (This Must be the Place) and co-stars James Cromwell (Halt and Catch Fire), Sam Shepherd (And So It Goes), and Javier Camara (Talk to Her).
"They chose a pope they didn't know," Belardo says, "and today, they'll begin to realize who I am."
HBO has announced that throughout the series, Belardo will face losing those closest to him and the constant fear of being abandoned, even by his God. He is, however, not afraid of undertaking the millennial mission of defending that same God and the world representing Him.
The Young Pope is set to premiere in 2017.