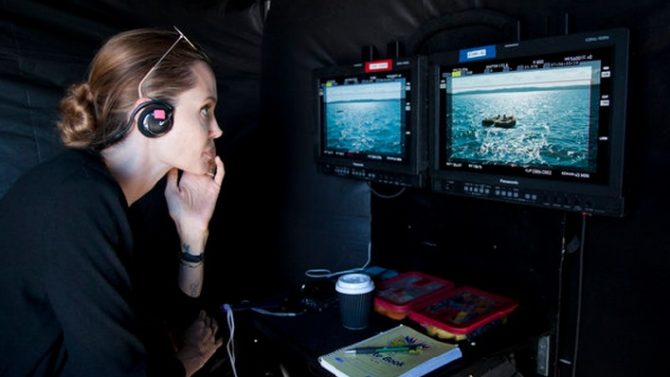 Angelina Jolie ha cosechado elogios en el transcurso de su carrera como actriz para ambas actuaciones en proyectos dramáticos como "The Changeling" y "Girl, Interrupted" y en películas comerciales como "Mr. and Mrs. Smith" y "Lara Croft." Sin embargo, muchos fans de la artista también han estado intrigados por sus recientes incursiones detrás de la cámara. Su más reciente proyecto como director y su primero desde el 2011 ("In the Land of Blood and Honey"), se titula "Unbroken."
La película explorará la historia del olímpico Louis Zamperini de 1936, quien sobrevivió en una lancha inflable por 47 días durante la Segunda Guerra mundial, sólo para ser capturado por los japoneses por dos años como prisionero de guerra.
Universal Pictures estrenó un video teaser de "Unbroken" durante los Juegos Olímpicos de Sochi el domingo. La película es basada en el enórmemente popular libro de Lauren Hillenbrand.
Narrado por Tom Brokaw, el vídeo nos da un pequeño repaso de la película con imágenes de archivo de los XXXVII Juegos Olímpicos en Berlín; y material de archivo con Zamperini, quien ahora tiene 97 años. El film será protagonizado por Jack O'Connell como Zamperini.
El elenco incluye a Domhnall Gleeson y Wittrock Finn como Phil y Mac, los aviadores con quien Zamperini soportó peligrosas semanas a la deriva en el Pacífico abierto. Garrett Hedlund y John Magaro serán prisioneros de guerra que se convierten en amigos de Zamporini  durante su internación. Alex Russell hará el papel del hermano de Zamperini, y, haciendo su debut en una película en inglés, el actor japonés Miyavi hace el papel del guardia brutal conocido como "El Pájaro."
Ganadores del premio de la Academia Joel y Ethan Coen reescribieron el guión con Richard LaGravenese ("Behind the Candelabra" de HBO) y William Nicholson ("Les Miserables").
"Unbroken" llega a los cines el día de Navidad, 2014.