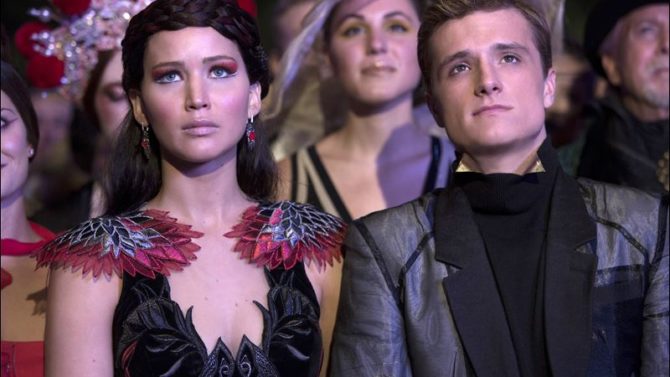 La temporada de premios más glamurosa se habrá terminado, pero todavía hay muchos premios por repartir. Los MTV Movie Awards anunciaron hoy su lista de nominados. "American Hustle" y "The Wolf of Wall Street," fueron las películas más nominadas, un buen recuerdo que aunque no fueron premiados la noche de los Oscar son unas de las mejores y más divertidas películas del año.
"Hustle" y "Wolf of Wall Street" y "12 Years a Slave," se enfrentarán con "The Hunger Games: Catching Fire," y "The Hobbit: The Desolation of Smaug" en la categoría de Mejor Película.
La película "Gravity," que ganó siete premios Oscar, solo recibió una nominación para Sandra Bullock como Mejor Actriz.
Las comedias de Jennifer Aniston, Will Ferrel y James Franco también fueron nominadas, películas que normalmente nunca reciben ningún reconocimiento durante las temporadas de premiación más serias.
Estas nominaciones también dan a luz el tono más divertido y relajado de los premios MTV.
En total, "American Hustle" y "Wolf of Wall Street" recibieron ocho nominaciones, "Hunger Games" (7), "We're the Millers" (6), y "12 Years a Slave," "Anchorman 2: The Legend Continues," "Dallas Buyers Club," "The Hobbit: The Desolation of Smaug," "This is the End" recibieron cuatro nominaciones.
El anfitrión de la noche será el comediante Conan O'Brien.
"Después de ocho años de intensas negociaciones, me siento honrado en anunciar que seré el anfitrión de los prestigiosos MTV [Movie Awards]," dijo O'Brien de chiste en un comunicado.
Y no se olviden de votar por los nominados, porque los ganadores son escogidos por el público.
La premiación será transmitida en vivo el domingo 13 de abril desde el Nokia Theatre en Los Angeles.
Aquí tienen la lista completa de los nominados:
Película del Año:
"12 Years a Slave"
"American Hustle"
"The Hobbit: The Desolation of Smaug"
"The Hunger Games: Catching Fire"
"The Wolf of Wall Street"
Mejor Actriz:
Amy Adams, "American Hustle"
Jennifer Aniston, "We're the Millers"
Sandra Bullock, "Gravity"
Jennifer Lawrence, "The Hunger Games: Catching Fire"
Lupita Nyong'o, "12 Years a Slave"
Mejor Actor:
Bradley Cooper, "American Hustle"
Leonardo DiCaprio, "The Wolf of Wall Street"
Chiwetel Ejiofor, "12 Years a Slave"
Josh Hutcherson, "Hunger Games: Catching Fire"
Matthew McConaughey, "Dallas Buyers Club"
Breakthrough Performance:
Liam James, "The Way Way Back"
Michael B. Jordan, "Fruitvale Station"
Will Poulter, "We're the Millers"
Margot Robbie, "The Wolf of Wall Street"
Miles Teller, "The Spectacular Now"
Mejor Comediante:
Kevin Hart, "Ride Along"
Jonah Hill, "The Wolf of Wall Street"
Johnny Knoxville, "Jackass Presents: Bad Grandpa"
Melissa McCarthy, "The Heat"
Jason Sudeikis, "We're the Millers"
Mejor Transformación:
Christian Bale, "American Hustle"
Elizabeth Banks, "The Hunger Games: Catching Fire"
Orlando Bloom, "The Hobbit: The Desolation of Smaug"
Jared Leto, "Dallas Buyers Club"
Matthew McConaughey, "Dallas Buyers Club"
Mejor Beso:
Ashley Benson, James Franco y Vanessa Hudgens, "Spring Breakers"
Emma Roberts, Jennifer Aniston y Will Poulter, "We're the Millers"
Jennifer Lawrence y Amy Adams, "American Hustle"
Joseph Gordon-Levitt y Scarlett Johansson, "Don Jon"
Shailene Woodley y Miles Teller, "The Spectacular Now"