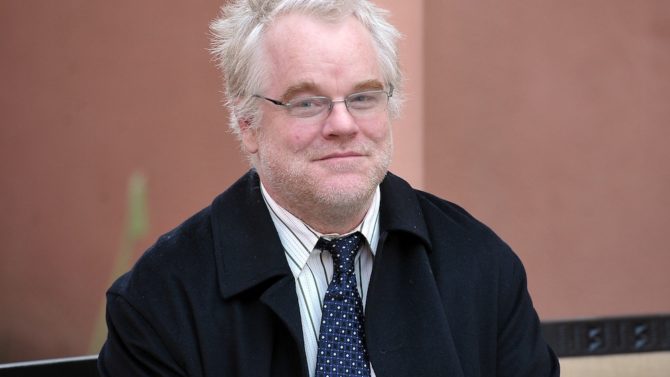 El actor ganador del Oscar Philip Seymour Hoffman fue encontrado muerto en su apartamento de Nueva York el domingo. Tenía 46 años.
Los oficiales de policía dijeron que Hoffman murió en su apartamento en el barrio West Village de Manhattan. Ninguna causa de muerte ha sido determinada, pero las autoridades sospechan que el actor pudo haber tomado una sobredosis de drogas. Los oficiales de policía dijeron que encontraron al actor con una aguja en el brazo.
Según el Wall Street Journal, el actor fue encontrado en su baño alrededor de las 11:15 am por un guionista, quien llamó al 911, dijo el funcionario.
Hoffman, quien ganó el Oscar al mejor actor por "Capote" en 2005, apareció recientemente en el Festival de Cine de Sundance para promocionar sus nuevas películas "God's Pocket" y "A Most Wanted Man" de Anton Corbin.
Él también estaba rodando las secuelas de "Hunger Games" – "Mockingjay Parte 1" y "Parte 2" en Atlanta, retomando su papel como Plutarch Heavensbee de "Hunger Games: Catching Fire."
El año pasado el actor completó un programa de abuso de sustancias de 10 días para tratar su adicción a la heroína. El actor reveló más tarde que había sido adicto a la droga cuando era más joven, pero que no la había usado por más de 20 años.
"Estamos devastados por la pérdida de nuestro querido Phil y apreciamos la efusión de amor y apoyo que hemos recibido de todo el mundo," dijo su familia en un comunicado. "Esta es una pérdida trágica y repentina, y le pedimos que respeten nuestra privacidad durante este tiempo de duelo. Por favor mantengan a Phil en sus pensamientos y oraciones."
Con una sonrisa pícara y un físico rotundo, Hoffman brilló con mayor frecuencia en papeles secundarios que hicieron buen uso de su aspecto y caracterizaciones intensas. Él trabajó con frecuencia con el director Paul Thomas Anderson, apareciendo en películas como "Hard Eight," "Boogie Nights," "Magnolia," "Punch- Drunk Love" y "The Master," por la que recibió una nominación al mejor actor de reparto.
También recibió nominaciones por "Doubt" y "Charlie Wilson's War," así como dos nominaciones al Tony por su trabajo en el escenario en "True West" y "Long Day's Journey Into Night."
Estaba profundamente involucrado en el mundo del teatro de Nueva York , sirviendo como co-director artístico de la Compañía de Teatro LAByrinth, donde dirigió varias obras entre ellas "Our Lady of 121st Street." Algunos de sus papeles de la etapa de Nueva York incluyen un papel en la producción "The Seagull" de Mike Nichols, "Defying Gravity" y "The Merchant of Venice."
Hoffman hizo una impresión en películas independientes como "Happiness" de Todd Solondz, "The Talented Mr. Ripley," "Almost Famous" y "State and Main." En películas de estudio, tuvo papeles en "Red Dragon," "Cold Mountain" y "Misión Imposible III."
Tuvo papeles críticamente aclamados en "Before the Devil Knows You're Dead," en la que interpretó a un adicto que mata a un traficante de heroína, "The Savages," "The Ides of March" y "Moneyball." Normalmente un actor de reparto, tuvo un papel estelar en 2001 en "Love Liza," co- escrito por su hermano Gordy Hoffman, en la que interpreta a un hombre que toma gasolina para enfrentar su dolor.
Hoffman hizo su debut como director de cine en el 2010 con "Jack Goes Boating," a pesar de que no recibió mucho reconocimiento.
Nacido en Fairport, New York, suburbio de Rochester, Hoffman se graduó con un bachillerato de drama de NYU y debutó en el cine en "Triple Bogey on a Par Five Hole," seguido por un papel en "My New Gun."
Después de aparecer en "Law & Order" en 1991, hizo una impresión el próximo año en "Scent of a Woman." En los próximos años se presentó en películas como "Nobody's Fool," "The Getaway" y "Twister."
Lo sobrevive su pareja de mucho tiempo, la diseñadora de vestuario Mimi O'Donnell, con quien tiene un hijo y dos hijas.