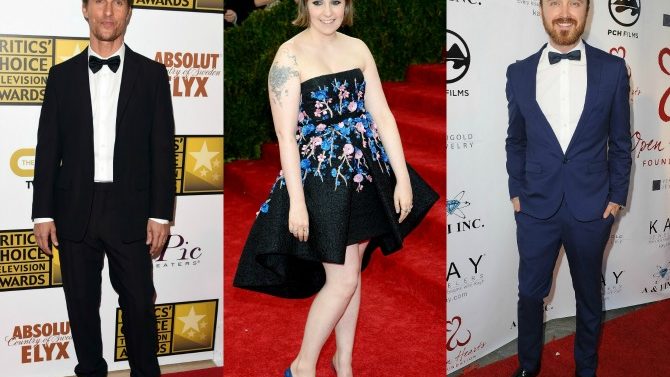 Éste tal vez sea uno de los mejores momentos en la vida de un actor, el momento en que tu nombre sea anunciado como nominado a un premio Emmy.
Hoy se dio a conocer la lista de los nominados a los Emmy Awards 2014 y como es de esperarse los elegidos ya han reaccionado al escuchar su nombre esta mañana.
La actriz de "House of Cards" Kate Mara tuiteó felicitaciones a sus compañeros Kevin Spacey y Robin Wright por sus nominaciones. Aunque ella también cuenta con una nominación como Mejor Actriz Invitada en una Serie de Drama.
VER TAMBIÉN: Emmy Nominaciones 2014–lista de los nominados a los Premios Emmy
Por otra parte Aaron Paul, nominado como Mejor Actor de Reparto por "Breaking Bad" dijo: "Qué hermosa manera de despertar esta mañana. Gracias a todos por sus palabras de cariño. Me siento tan bendecido."
Jimmy Fallon quien también cuenta una nominación al Emmy por Mejor Serie de Variedad tuiteó: "Estoy feliz de estar nominado a un Emmy. Y aún más feliz de que ya tengo una excusa para estar tomando esta champaña a las 9am."
Lena Dunham de "Girls" está nominada en la categoría Mejor Actriz en una Serie de Comedia y sólo pudo decir: "Gracias".
El actor de "Orange is the New Black", Pablo Schreiber aprovechó Twitter para felicitar a su familia del programa "Felicidades a mi familia de OITNB, 12 nominaciones!!! Excelente!!!"
Danielle Brooks de OITNB dijo que era un honor y orgullo ser parte del elenco de ese programa. "Emmy's ahí vamos … #Agradecida".
La serie de Netflix cuenta con 12 nominaciones incluyendo Mejor Serie de Comedia.
A través de un comunicado Matthew McConaughey dijo lo siguiente sobre su nominación Mejor Actor en una Serie de Drama por "True Detective":
"Es un honor estar nominado con tantos actores talentosos. Esta es una tremenda categoría con excelentes participaciones. Gracias por este reconocimiento."
Felicidades a todos los nominados, este 25 de agosto veremos quienes serán los ganadores. ¡Qué emoción!