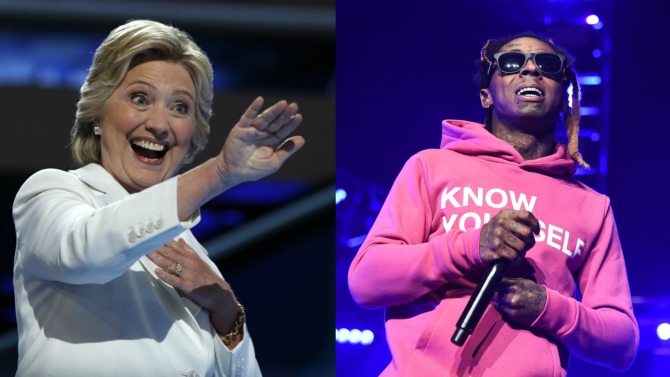 Unos citan a Martin Luther King, otros citan George Washington, pero Hillary Clinton hizo referencia a Lil Wayne durante su discurso de aceptación como candidata a la presidencia de Estados Unidos por parte del Partido Demócrata.
Y es que parece ser que Clinton y su equipo de trabajo escribieron el discurso mientras escuchaba los mixtapes de Lil Wayne, No Celling (2009) y Da Drought 3 (2007). Este último cuenta con el tema "Sky's the Limit".
"When there are no ceilings, the sky's the limit", expresó la primera mujer en liderar uno de los principales partidos políticos estadounidenses.
Las reacciones de los fanáticos del rap y el hip-hop no se hicieron esperar, y usaron las redes sociales para expresarse en relación al hecho de que quien podría ser la primera mandataria del país hizo referencia a uno de los pilares de la cultura popular.
Asimismo, la cadena TMZ se encontró con Lil Wayne, la noche del jueves, y le preguntaron qué opinaba sobre los comentarios de Clinton. El artista admitió que no vio el discurso y que no conocía a la ex Secretaria de Estado, pero a la misma vez reaccionó algo emocionado cuando supo que ella hizo una referencia a su música.
VER TAMBIÉN: Representante Joyce Beatty usa el mismo vestido que Melania Trump