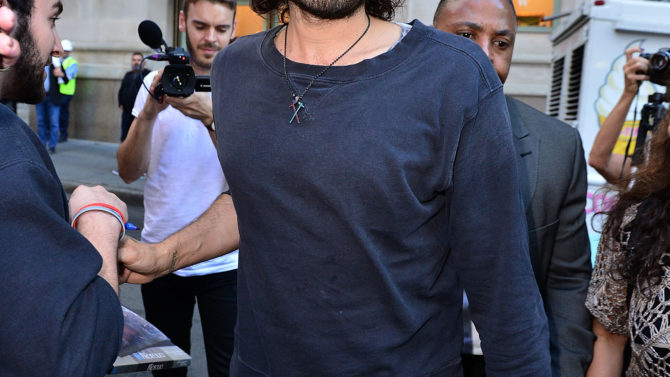 Russell Brand se está tomando en serio su papel de activista.
El actor y cantante estuvo a poco de ser detenido por filmar en la sede de Fox de New York sin autorización.
En un video podemos ver la confrontación de Brand con uno de los guardias del canal, donde el actor explica: "Acá estamos en la sede de Fox, los más grandes están acá Bill O'Reilly, Sean Hannity, todos los que se rehusan a tenernos en su show."
Recordemos que el actor de "Get Him to the Greek" en su canal de Youtube  critica la postura conservadora de presentadores como los que nombra de Fox.
"Sean Hannity, nos iba a recibir y luego nos canceló. Así que vamos a hacer un especial aquí, las noticias verdaderos en el corazón de la creación", dice Brand en el video.
VER TAMBIÉN Russell Brand se une a miles de protestantes en Londres
La idea del actor según explica era entender la postula anti Islam de ese canal de noticias, pero en medio de su discurso es interrumpido por un guardia de seguridad que le dice: "Usted no puede estar aquí grabando, esto es propiedad privada." Luego Brand le discute y el hombre dice: "¿Quiere ser arrestado?"
El video sigue con el actor tratando de entrar, pero sin embargo debe retirarse del edificio.
Sean Hannity lo mencionó en Twitter, donde lo llamo "acosador horripilante".
En estos días el actor está presentando su nuevo libro llamado "Revolution"  donde explica su postura política.
¿Qué opinas de la noticia?