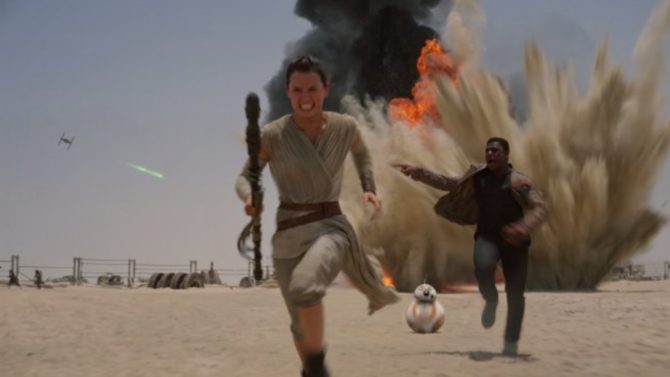 Star Wars: The Force Awakens también tuvo su momento en la gran noche de los American Music Awards 2015. Una nueva escena de la esperada película fue revelada durante la entrega de premios celebrada este 22 de noviembre en Los Ángeles.
En el clip aparecen Rey (Daisy Ridley) y Finn (John Boyega) corriendo en el desierto luego de que se lleva a cabo una explosión. Al terminar la escena que duró solo unos cuantos segundos, apareció Harrison Ford en el escenario del Microsoft Theater para presentar a la banda Pentatonix quienes interpretaron el tema de la banda sonora de la película dirigida por J.J. Abrams. Esta agrupación originaria de Arlington, Texas, recientemente lanzó su álbum titulado Pentanoix.
Star Wars: The Force Awakens tendrá su estreno global en cines el próximo 18 de diciembre. El séptimo capítulo de esta famosa saga cuenta con las actuaciones de Mark Hamill, Lupita Nyong'o, Andy Serkis, Domhnall Gleeson, Anthony Daniels, Peter Mayhew, Max Von Sydow, Carrie Fisher y Harrison Ford, quienes estarán retomando sus icónicos papeles de Han Solo y Princess Leia.
Pentatonix se unió a otras presentaciones emocionantes de grandes estrellas como Selena Gómez, Nick Jonas, Ariana Grande y One Direction.