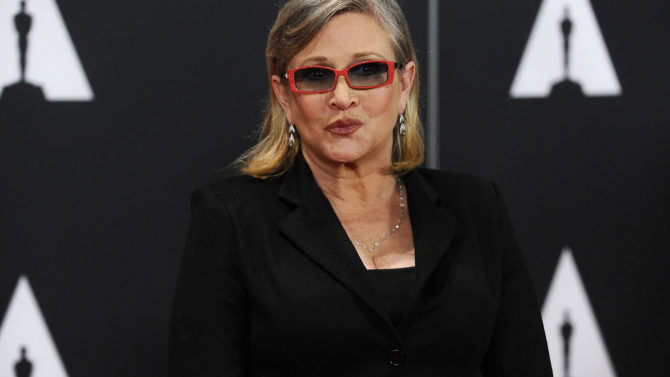 Carrie Fisher reveló que tuvo que perder 35 libras para poder interpretar nuevamente a la popular Princess Leia en Star Wars: The Force Awakens. Así lo hizo saber la actriz durante una entrevista con Good Housekeeping U.K., donde además confesó que Hollywood no ha cambiado mucho desde que se estrenó la primera película de esta popular saga de ciencia ficción en 1977: "Sigue siendo una industria obsesionada con las apariencias (…), solo les falta que nos pidan que no envejezcamos", sentenció la intérprete.
A pesar de no estar de acuerdo con la petición demandada por la producción del filme, Fisher bajó de peso haciendo ejercicio y comiendo menos. "Me cuesta más comer saludable que hacer ejercicio. Se me hace más fácil agregar una actividad a mi día que privarme de algo". La artista confiesa que sintió remordimiento luego de quitarse esas 35 libras de más. "No me gusta lo que siento cuando bajo de peso. Tratamos la belleza como si fuera un gran logro y eso es absurdo".
Fisher aprovechó su participación en este nuevo capítulo de la franquicia para aconsejar a Daisy Ridley, uno de los nuevos rostros de Star Wars, sobre su imagen para la cinta. "Lucha por tu vestuario. No seas una esclava como yo", señaló la actriz quien se convirtió en un símbolo sexual luego de aparecer con un bikini dorado en Return of the Jedi.
Star Wars: The Force Awakens se estrena el 18 de diciembre.