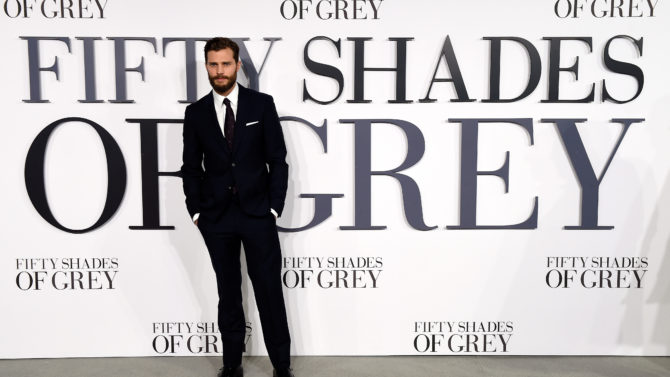 BREAKING 2/25: 
Jamie Dornan (Christian Grey) respondió a los rumores que circulan sobre su partida de "Fifty Shades of Grey" y a través de un comunicado aclaró: "Jamie está muy contento que la película esté batiendo récords en las taquillas a nivel mundial y mientras el estudio aún no ha hecho ningún anuncio formal sobre una secuela, él estaría encantando de regresar para la próxima producción".
¡Yesssss!
http://38.media.tumblr.com/77eb9b623e7d3a72ac4906ae24313e46/tumblr_nk7h9pwx4i1qb6v6ro1_400.gif
¡Resulta que tal vez Jamie Dornan no regrese para la secuela de "Fifty Shades of Grey"! Justo cuando ya lo habíamos aceptado como Christian Grey.
Según reportes, Amelia Warner, esposa del actor irlandés, quedó molesta e incómoda con las escenas candentes que protagonizó Jamie y por esa razón se especula ya no regresará al Red Room of Pain. Como era de esperarse, el rumor causó indignación entre las fans de  la trilogía escrita por E.L. James.
Pero que no 'panda el cúnico' porque un tweet de una de las cuentas que reporta todo sobre el mundo de "Fifty Shades" confirmó que esta noticia es sólo un rumor, aunque cabe mencionar que esta cuenta no está verificada.
Además todo se pone aún más confuso cuando el representante de Jamie Dornan emitió un comunicado diciendo que el estudio no ha confirmado una secuela: "la historia de que Jamie no aparecerá en la secuela es una conclusión basada en información incompleta pues hasta el momento ni el mismo estudio ha firmado la secuela de 'Fifty Shades of Grey'".
Recordemos que el 6 de febrero Dornan, Dakota Johnson, la autora E.L. James y la directora Sam Taylor-Johnson confirmaron que los otros dos libros de la trilogía "Fifty Shades Darker" y "Fifty Shades Freed" llegarían a la pantalla grande durante un screening de la cinta en Nueva York.
Hmmmm … ¡aquí hay gato encerrado!
La semana pasada les reportamos que Sam Taylor-Johnson, directora de la cinta que se estrenó el 13 de febrero y que se convirtió en una de las películas más taquilleras de la historia, tampoco regresaría para las próximas entregas de esta franquicia, ya que E.L. James es la que quiere encargarse en su totalidad de las futuras adaptaciones.
Por el momento todo esto sigue siendo un rumor y como fans de Mr. Grey [y de Jamie], los mantendremos al tanto.