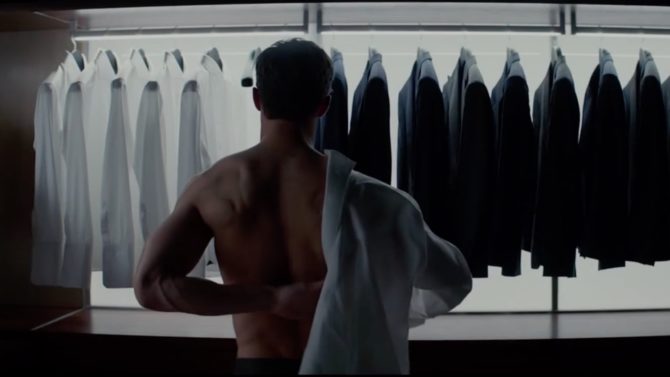 Estamos de acuerdo que razones nos sobran para ver la película más esperada del año, "Fifty Shades of Grey", y desde ahorita te decimos que no es una historia de amor típica, la cual la hace aún más interesante, o sea es el tipo de amor que te hace sufrir en todo el sentido de la palabra.
A Christian Grey, quien es el personaje protagónico interpretado por el guapísimo Jamie Dornan, o lo amas o lo odias y nosotros te damos cinco razones para amarlo y realmente ver su lado "humano".
¡Disfruta!
Héroe: ¡Salva a Anastasia Steele (Dakota Johnson) de casi ser atropellada!
https://33.media.tumblr.com/c66bb0e828cc235b9e685cf78a3a9fac/tumblr_njnzpmdFtN1un0ss9o2_500.gif
(cortesía: 50Shades)
Apasionado: Seamos honestos, a Christian Grey (Dornan) se le caracteriza por ser rudo peroooo … también tiene su lado apasionado y romántico. <3
https://33.media.tumblr.com/5d1e3342dd20796cfd95f89416bbeac0/tumblr_njmu8vruMY1tg3d7jo3_500.gif
(cortesía: jamiesdornann)
Tierno: Aunque quisiera hacerle "otras cosas" a Anastasia, no le falta el respeto … bueno hasta tener su consentimiento.
https://33.media.tumblr.com/b3d44b825f3dfe5f6ca28edcbd9a7921/tumblr_njmjwcmXbK1sn9kiko2_500.gif
(cortesía: littleloveof17)
Su talento para bailar: De manera espontánea nos demuestra que también es bueno para la bailada.
https://33.media.tumblr.com/c7bb4b54a326e9f6b6f7f2dc23b4aba8/tumblr_njo80tiJlZ1r7eta3o1_500.gif
(cortesía: moan-s)
Abdomen: Esto no necesita explicación, ¡sino más bien admiración!
https://40.media.tumblr.com/ebefa5bde8f17ed9e3a9fba98861a9a3/tumblr_njny317uPv1tuefaeo6_250.png
(cortesía: itsjamiedornan)
Ahora sí … "Mr Grey will see you now" … ¿Listos?
https://31.media.tumblr.com/a3327b25e159bf16cd69ae1ad9c47d0f/tumblr_inline_njn1w4topi1rd7f5g.gif
No se pierdan la peli más hot del año, ¡"Fifty Shades of Grey" la cual estrena este viernes 13 de febrero! Nosotros ya la vimos y aunque el contenido es un poco fuerte vale la pena ver la película de la que todos estarán hablando este fin de semana.