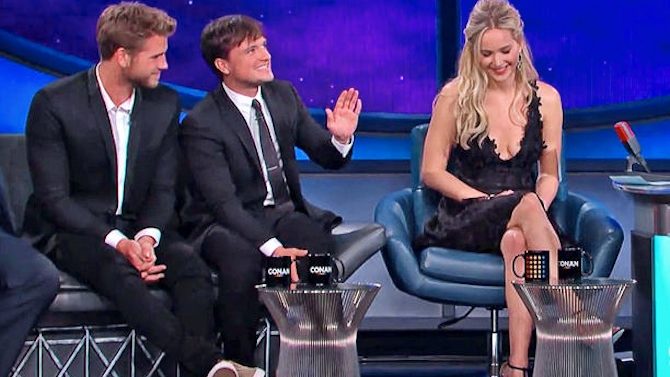 Las estrellas de The Hunger Games, Jennifer Lawrence, Josh Hutcherson, y Liam Hemsworth asistieron al programa nocturno de Conan O'Brien para platicar acerca de la popular franquicia. El animador aprovechó el momento para preguntarle al elenco si en verdad Mockingjay, Part 2 es la última secuela de esta importante serie de películas. ¡Fue acá cuando Hutcherson respondió que todos estaban en conversaciones para continuar la historia de Katniss y sus amigos!
Luego de esta afirmación, sus coestrellas observaron al actor como si se tratara de una información confidencial que no tenía que haber sido revelada. Hutcherson, al sentir las punzantes miradas de todos los presentes, se retractó rápidamente con un nervioso "veremos qué pasa". Conan no dejó que el intérprete se escapará tan fácilmente de sus palabras y le recordó por largo rato lo malo que es mentir.
Aún no hay información oficial sobre el futuro de la saga de The Hunger Games pero el resbalón de Hutcherson ha llenado de esperanza a muchos fanáticos.
The Hunger Games: Mockingjay, Part 2 se estrena este 20 de noviembre.